Posted on November 3, 2017 at 9:37 AM, updated November 9, 2017 at 11:39 AM Print
Moo-Yeal Lee wins EPA challenge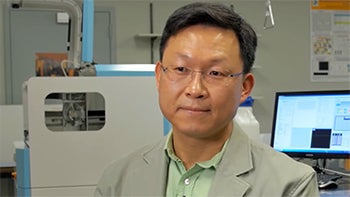 Dr. Moo-Yeal Lee, an assistant professor of chemical and biomedical engineering at Cleveland State University, has been named a stage-two winner of the U.S. Environmental Protection Agency's Transform Toxicity Testing Challenge. Dr. Lee partnered with Mr. Rayton Gerald of 3D MicroArray, Inc. to develop robotic, high-precision, cell printing technology which allows for the generation of testable human tissues in a laboratory environment. The innovation could increase the accuracy of toxicity testing and drastically reduce the associated costs.
The EPA is developing automated screening technologies, called high-throughput screening (HTS) assays, which can more rapidly and more accurately test how some of the thousands of chemicals in use in society may affect human health. However, since current HTS assays do not fully incorporate chemical metabolism, they may miss chemicals that are metabolized by the human body to a more toxic form. Dr. Lee's research group utilized 3D bioprinting technology to create biomimetic human tissues in the lab for use in high-throughput screening of chemical compound libraries. The robust, flexible and less expensive system also enables retrofitting of current cell-based toxicity tests to provide better metabolic competence.
"3D bioprinting has tremendous applications in numerous areas that could transform everything from drug development to treatment of individual patients by creating biomimetic human tissues using cells from the patient," Dr. Lee says. "We are very excited at the potential opportunities the technology provides to improve toxicity testing, and are honored the EPA has selected our research for this recognition."
The EPA launched the Transform Toxicity Testing Challenge along with, the National Institutes of Health and National Center for Advancing Translational Sciences in 2016. It asked teams of scientists to develop techniques to retrofit existing HTS assays to incorporate processes that reflect how chemicals are broken down and metabolized by the body. Stage two winners were asked to produce practical designs based on their stage one theoretical frameworks. Honorees received a $100,000 prize.
To learn more about the Challenge and the EPA's environmental research, visit https://www.epa.gov/innovation/announcing-transform-toxicity-testing-challenge-stage-two-winners.
###