Posted on May 14, 2022 at 3:16 PM, updated May 18, 2022 at 10:27 AM Print
University conferred more than 2,300 degrees to graduates during two-part ceremony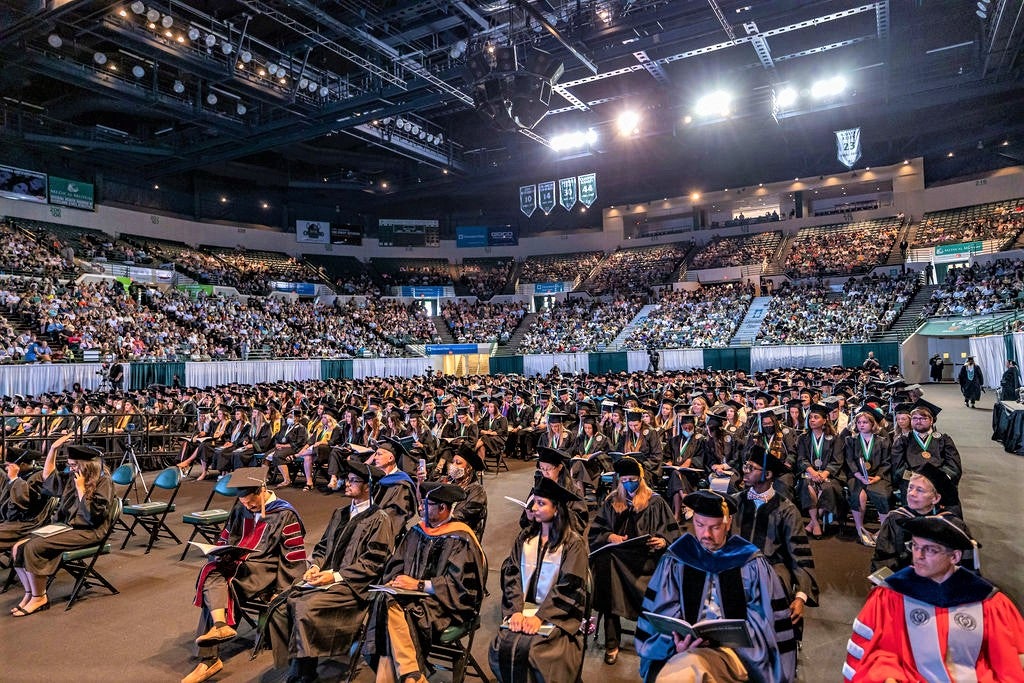 Cleveland State University (CSU) celebrated graduates with in-person commencement ceremonies at the university's Wolstein Center arena on Saturday, May 14. CSU conferred degrees to over 2,300 to graduates in the two commencement exercises.
The morning ceremony began at 9:30 a.m., with the following CSU colleges participating: the College of Graduate Studies; the Jack, Joseph and Morton Mandel Honors College; the College of Education and Human Services; the Washkewicz College of Engineering; the College of Liberal Arts and Social Sciences, and the Maxine Goodman Levin College of Urban Affairs.
The afternoon ceremony began at 2 p.m., with the following CSU colleges participating: the College of Graduate Studies; the Jack, Joseph and Morton Mandel Honors College; the Monte Ahuja College of Business; the School of Nursing and the College of Sciences and Health professions.
Newly débuted CSU president Laura J. Bloomberg, Ph.D., who was announced by the CSU Board of Trustees as the university's eighth president on April 26, 2022, expressed elation at the opportunity to convene the graduates during both ceremonies.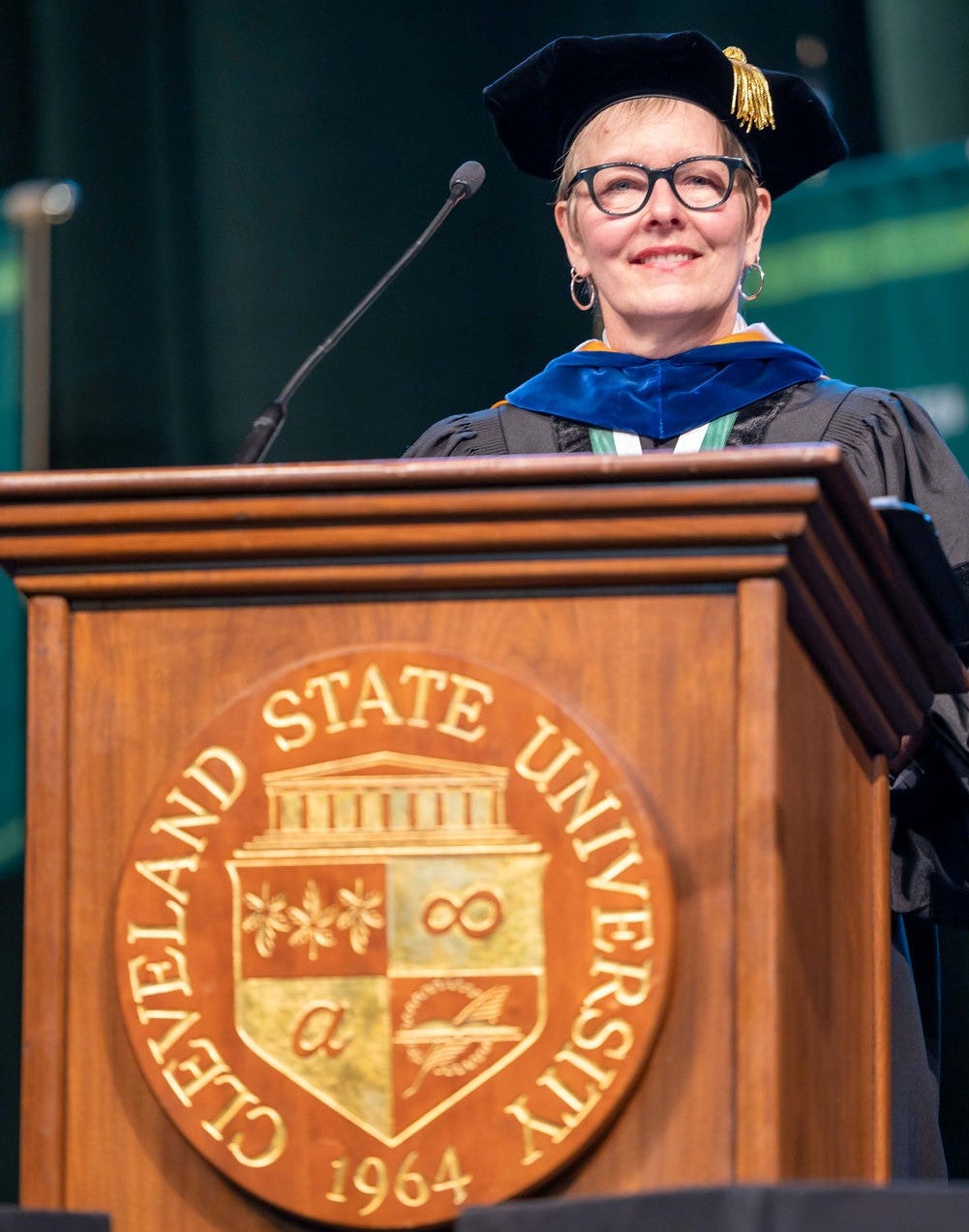 "We couldn't be more proud of your accomplishments and the spirit of perseverance that brought you to this day," said Dr. Bloomberg, referring to the "unprecedented times" of the last couple of years.
In both ceremonies, Dr. Bloomberg made a point of referring to a poignant quote made famous by the late author/philosopher and 1983 U.S. Presidential Medal of Freedom award-winner, Eric Hoffer. A skid-row-to-recovery story, Hoffer's words would resonate with graduates attending each of the ceremonies. 
"'In times of great change, learners inherit the earth, while the learned find themselves beautifully equipped to deal with a world that no longer exists,'" Dr. Bloomberg related. She asked graduates to "be always a learner," as she acknowledged the role of the village in the lifelong path of inquiry and curiosity.
"To the family members and friends here to celebrate these students, and to those of you watching from home, we are glad that you are with us on this special day," Dr. Bloomberg said. 
Morning keynote, Hon. U.S. Rep. Shontel Brown, recounted her own journey being full of challenges and uncertainty—including her own election, which wasn't finalized until days after an election.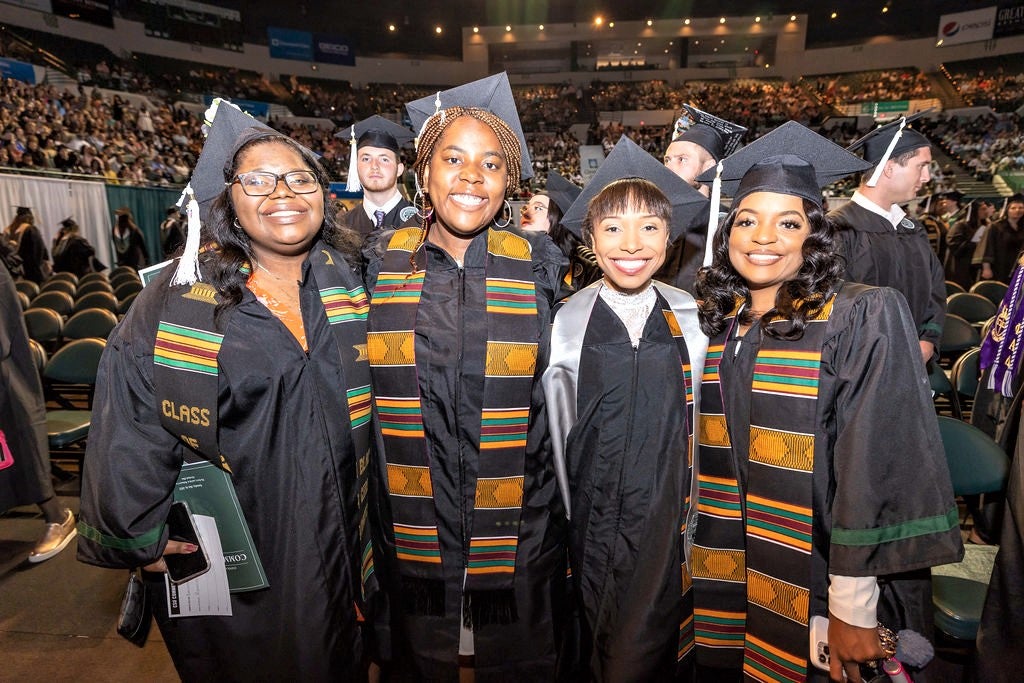 "The road is often unclear and uneven," Rep. Brown, who represents Ohio's 11th congressional district and serves as Chairwoman of the Cuyahoga County Democratic Party. "But by staying true to yourself and your personal pursuits, you will make headway towards your final destination—and you will arrive stronger because of your trials and tribulations. 
"So whenever the road is hardest, the cynics the loudest, or the personal doubts the strongest, keep pushing forward. Find new ways to overcome the odds. Find new ways to recover from the shortfalls. And find new ways to make progress towards your goals," Rep. Brown said.
Caleb J. Palagyi, one of two University Valedictorians, addressed the audience with a speech about the educational journey, the bridges traveled and orienting to the "What next?" of the moment.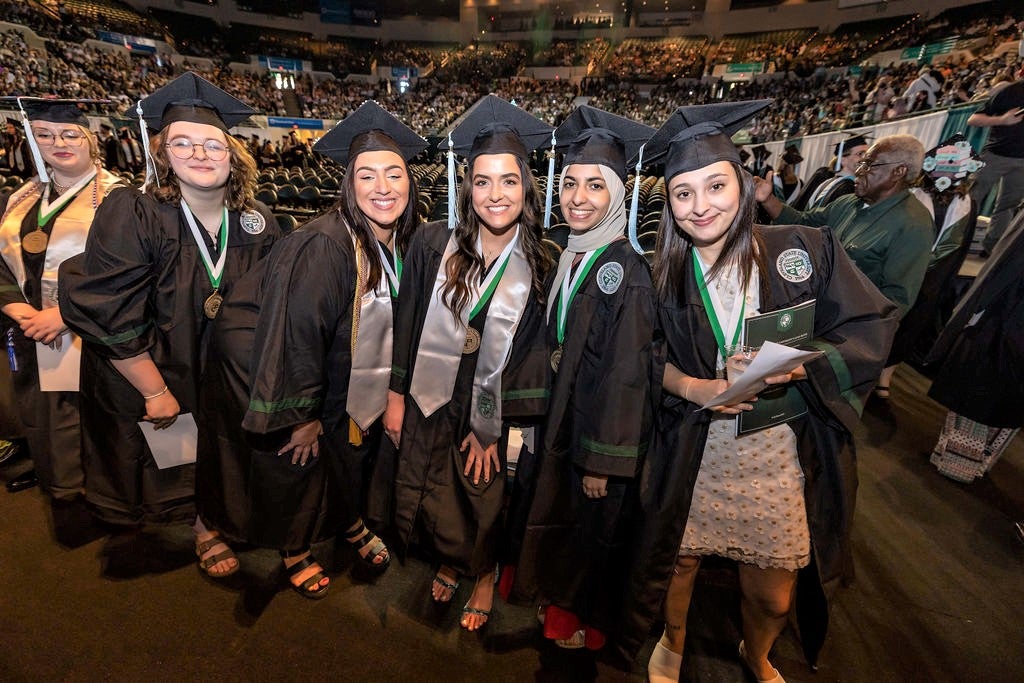 "The easy choice is to focus on oneself and to just keep trying to make it across the next seemingly impassable path to the next destination," Palagyi said. "Most of us have been told at least once to keep moving forward and that eventually all of these difficulties will be in the rearview mirror and you can forget about them… I ask that you take the time to step back, reflect and look behind you."
Palagyi, who graduated Summa Cum Laude with a Bachelor of Science in Electrical Engineering from the Washkewicz College of Engineering, encouraged everyone to remember that overcoming hardships and generosity empowers everyone involved—particularly those following in the graduates' footsteps.
"This leaves us with a decision: 'Will I turn back and build a bridge for another?'"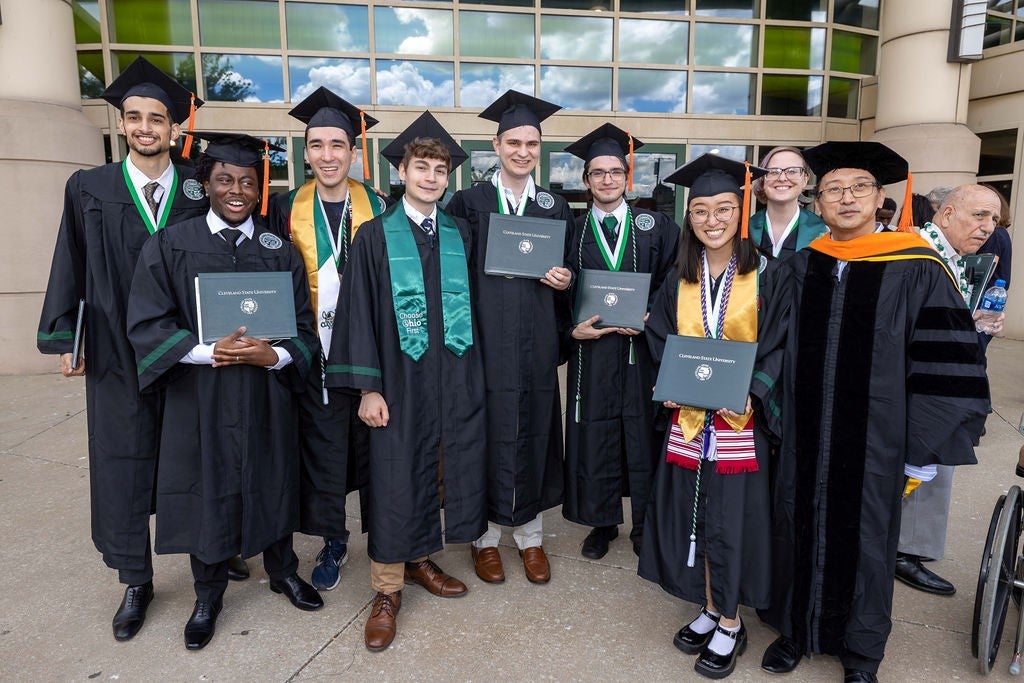 During the afternoon exercises, Lily M. Ng, Ph.D., Professor Emeritus of CSU and Past Chair of the Chemistry Department, was bestowed a Distinguished Emeritus Faculty Honorary Degree. While not able to join in person, her comments were related by Dr. Bloomberg called on graduates to remember all the "champions" who were in their respective corners during the collegiate journey and to endeavor everything as a mission of commitment. 
Through the president, Dr. Ng. offered her four pillars of advice: "Be kind, be of service, continue to work hard and persist, and never stop being curious."
Life coach/author and afternoon keynote Tim Alexander recounted having the world by the horns as a student football player who could have played for any college in the country before a life changing car accident in 2006 left him paralyzed from the neck down.
In the years that followed, the motivational speaker earned three degrees, wrote a book "Ever Faithful Ever Loyal," became a minister and even won an Emmy award. Alexander challenged any linear thinking in the audience, recounting a rough childhood and excruciating physical rehabilitation after the accident. He asked graduates to approach everything with enthusiasm, hope, positivity and determination.
"Every thank you is an I.O.U.," Alexander said. "People are watching you, looking up to you. Don't stop, winners never quit and there's still so much left to accomplish. Do not allow this [commencement] to be your last achievement. And I challenge you to live a life of resilience, sacrifice and courage. Ask yourself, 'If not me, who? If not now, when?'" 
Now part of the renewed University of Alabama at Birmingham, Alexander encouraged graduates to keep his mantra in mind from this day forward: "We don't need it to be easy, we just need it to be possible."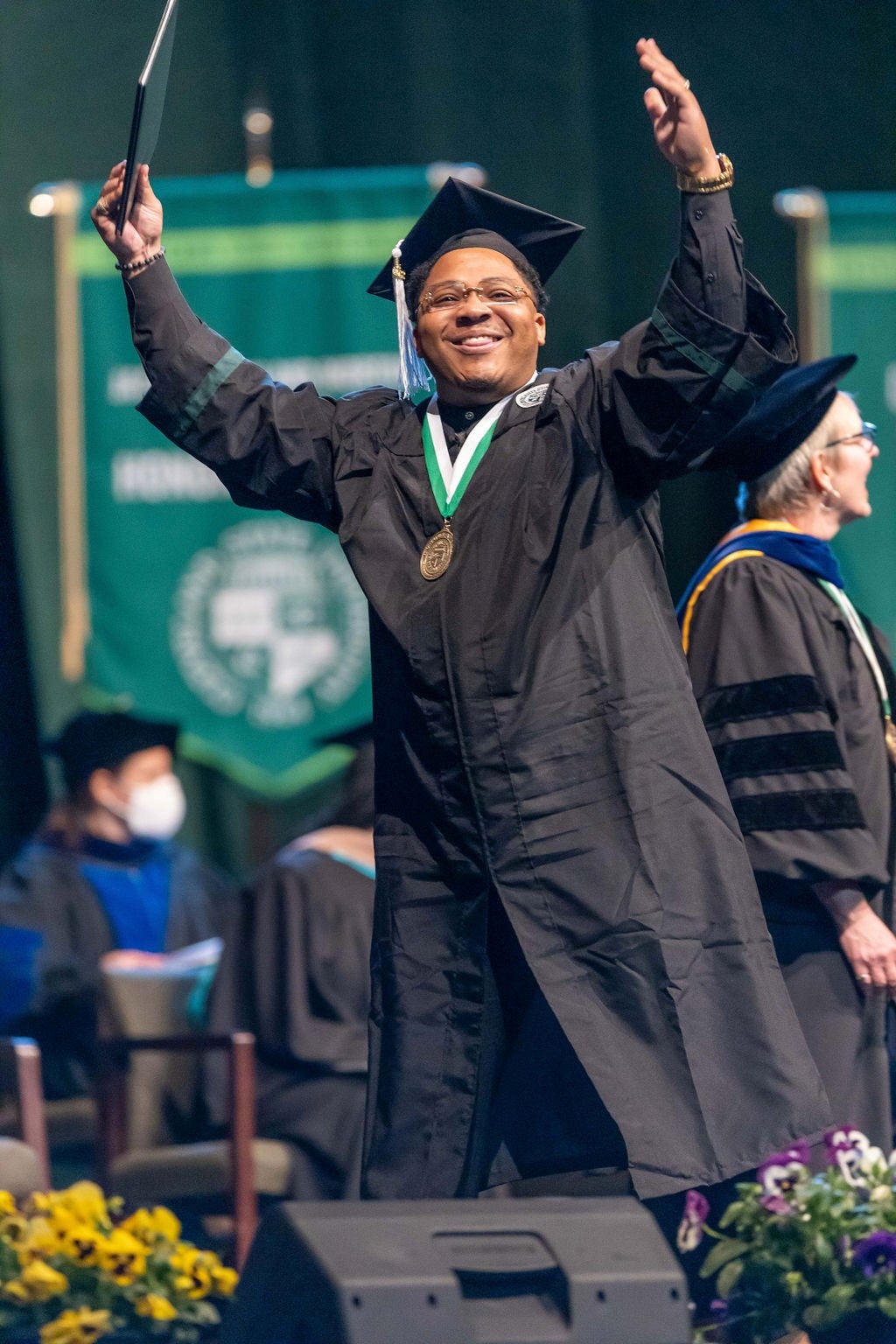 Connor M. Mahon, University Valedictorian, College of Sciences and Health Professions and College of Arts and Social Sciences, reflected all the speakers' sentiments in his personal remarks during the afternoon exercises.
"There are countless students who do not hesitate to be leaders, mentors, and champions for others," said Mahon. "People who are asking the right questions, creating necessary solutions and doing some amazing things. If you don't see yourself reflected in that description, know that it is never too late."
Mahon, who graduated Summa Cum Laude with a Bachelor of Arts in Communication Sciences and Disorders and Bachelor of Arts in Linguistics encouraged graduates to connect with their community.
"Nothing happens in isolation. Find your people and make your difference in the world. Nothing is missing. Look around you and give it form," he concluded, asking grads to remember their resilience and to carry the CSU experience inside of them as they set forth to what's next.
"Once a Viking, always a Viking," Mahon said. 
For a complete news rundown on CSU Spring 2022 Commencement events, please visit www.csuohio.edu/commencement.
Watch the morning Commencement ceremony by following this link.
Watch the afternoon Commencement ceremony by following this link.