Posted on November 5, 2014 at 11:42 AM, updated November 5, 2014 at 11:45 AM Print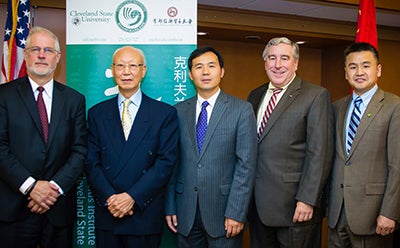 A delegation of faculty and administrators from Cleveland State University's academic partner, Capital University of Economics and Business (CUEB) in Beijing, traveled to Cleveland on October 16 for the CSU-CUEB Joint Forum on Sino-U.S. Economics and Business Development.
The event was jointly hosted by CSU's Confucius Institute and Maxine Goodman Levin College of Urban Affairs, which have served as bridges for learning and exploration of business opportunities between Cleveland and Beijing.
Pictured, from left, are Joe Roman, president and CEO of the Greater Cleveland Partnership; Anthony Yen, chair of the Confucius Institute trustee council; Quanshe Yang of CUEB; and CSU representatives Ned Hill and Haigang Zhou.
The forum included presentations and discussions among faculty from CSU and CUEB as well as members of the Cleveland civic community on key international business topics facing the U.S. and China, including currency regulation, the costs of health care and demographic shifts.
"There is major interest in exchanging knowledge and developing business opportunities in cities like Cleveland that may not be as visible as some coastal cities in the U.S.," said Dr. Haigang Zhou, director of the Confucius Institute at CSU and associate professor of finance in the Monte Ahuja College of Business.
Read more on CSU's ENGAGED blog.