Posted on September 14, 2021 at 12:55 PM, updated September 16, 2021 at 2:11 PM Print
Friday, Sept. 17 is Constitution Day! Join CSU's celebration of our nation's heritage by visiting "We the People," a special display curated to recognize the importance of the U.S. Constitution. The display is located on the first floor in the Michael Schwartz Library and is open to viewers during regular library hours through September 2021.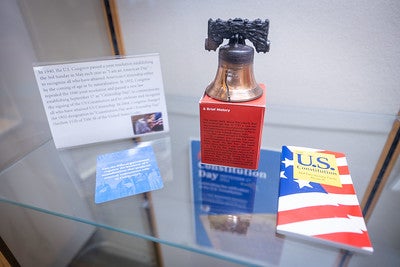 In addition, from noon to 1 p.m., CSU Cleveland-Marshall College of Law will hold a panel discussion reviewing major decisions from the U.S. Supreme Court's previous term. The discussion will include the Court's recent actions related to the new Texas abortion law, an overview of the Court's recent criminal law decisions, and other significant cases. The panel discussion will feature Professors Steve Lazarus, Reginald Oh, and Jonathan Witmer-Rich, and the discussion will be moderated by Dean Lee Fisher. The event is free and open to all students, faculty, staff and the public.
For more information about Constitution Day visit constitutionday.com.