Posted on January 7, 2019 at 3:07 PM, updated January 7, 2019 at 3:07 PM Print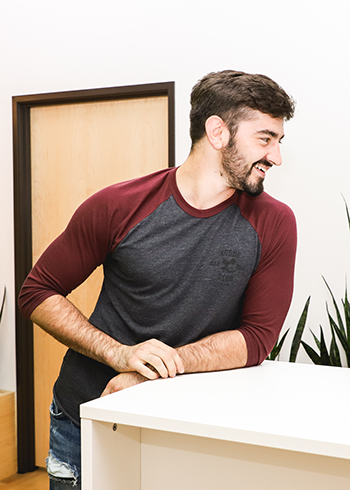 Recent mechanical engineering graduate Dan Miller will continue to expand his expertise in entrepreneurship through his participation in the prestigious Venture for America Fellowship program.
Venture for America is a non-profit organization that places recent graduates at startups in cities with emerging entrepreneurial ecosystems, forging a community of entrepreneurs committed to building companies that matter.
Miller started his educational journey by completing his associates degree at Cuyahoga Community College with a focus in pre-engineering before beginning his mechanical engineering studies in the Washkewicz College of Engineering at Cleveland State University. Drawn to mechanical engineering due to his family's rich military history, he knew that he wanted to help veterans returning home from deployment by designing prosthetics.
During his junior year, Miller got the chance to dive into prosthetic development through an entrepreneurial senior design project mentored by Dr. Antonie van den Bogert, professor of mechanical engineering and director of the Parker Hannifin Motion and Control Lab. Miller and his team, Rob Moody, Ryan Doris and Donny Grimes, worked on modifying a passive lower-limb exoskeleton to reduce energy use and improve mobility for those suffering from a stroke, traumatic brain injury or progressive neurological disorder.
The team ultimately created a company to market the device and participated in CSU's Startup Vikes contest and Cleveland's Jumpstart program to further develop the business and enhance product development.
During his tenure at CSU, Miller also participated in the Washkewicz College's cooperative education program, completing an assignment with Ford Motor Company. He stresses that these experiences were perfect fits for Venture for America and greatly helped him earn selection to the program.
"The only reason I knew that VFA existed was because the documentary 'Generation Startup' was screened on campus during my senior year," Miller says. "During the interview process, my main talking points were my internship with Ford and launching my own startup through the entrepreneurial senior design program. I received this fellowship because of the opportunities and resources that CSU and the Washkewicz College of Engineering provided me."
The Venture for America program's expansive application process has a theme of adaptive excellence and includes a general application, essay, interview with a current VFA fellow and selection day, a full day of intensive group and individual interviews. This year over 2,400 recent graduates applied for the program and 180 individuals were accepted. 
Miller has been matched with Gayanga, founded in 2016, a Detroit-headquartered construction engineering technology startup, specializing in eco-friendly demolition, as well as infrastructure, related public works and private sector assignments.