Posted on June 10, 2014 at 10:21 AM, updated June 10, 2014 at 5:04 PM Print
Craig Stone has been named director of campus safety and chief of the Cleveland State University Police Department.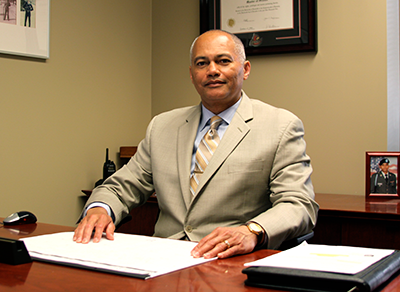 He was sworn into office June 2, 2014, by CSU President Ronald M. Berkman.
Chief Stone comes to CSU after serving 29 years with the Columbus Division of Police, where he rose to the rank of lieutenant and oversaw homeland security, investigations and operations. He was the command post liaison of the Homeland Security Branch for The Ohio State University's home football games. He also was the Emergency Operations Center commander for Fourth of July celebrations in Columbus.
A member of the International Association of Campus Law Enforcement Administrators and the International Association of Chiefs of Police, Chief Stone is also a certified "Gold Standard" assessor for the Commission on Accreditation for Law Enforcement Agencies. He served two terms as president of the State of Ohio Accreditation Resources, which represents 60 law enforcement agencies in Ohio, Kentucky and West Virginia. He was appointed by the governor to the Ohio Commission on African-American Males, serving two terms as a commissioner.
Chief Stone holds a master's degree in the administration of justice from the University of Louisville and is a graduate of the 120th session of the Southern Police Institute's Administrative Officers Course.