Posted on January 6, 2021 at 3:08 PM, updated April 28, 2021 at 9:52 AM Print
John McLendon Named 2021 Theodore Roosevelt Award Recipient
McLendon became the first African American head coach at a predominantly white institution when hired by Cleveland State University in 1966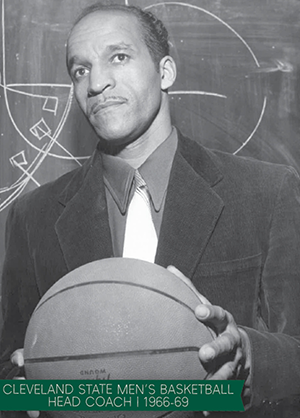 ​​​​​​​CLEVELAND, Ohio – Former Cleveland State University head men's basketball coach John McLendon will posthumously be honored as the 2021 Theodore Roosevelt Award recipient during this month's NCAA Convention.
The "Teddy" is the highest honor the NCAA can confer on an individual. It is named after former President Theodore Roosevelt, whose concern for the conduct of intercollegiate athletics led to the formation of the NCAA in 1906.
McLendon, a two-time inductee into the Naismith Basketball Hall of Fame as a contributor and later as a coach, is being recognized for his lifetime of work in college basketball, where he is known as a pioneer, and for his innovative approach to the game.
"Working with college students and college athletes really was the place closest to his heart," said McLendon's granddaughter Tracey Banks. "To hear that he is the recipient of this award means a great deal to our family."
McLendon was hired by Cleveland State University in 1966, becoming the first African American head basketball coach at a predominately white institution. On Dec. 1, 1966, in his first game at the helm of the Cleveland State men's basketball program, McLendon earned an 86-70 win over Hiram. Later that season, he notched his 500th career victory in a 24-22 win against Walsh on Jan. 11, 1967.
"Coach McLendon continues to be a pioneer in both the sport of basketball and intercollegiate athletics," said current Cleveland State head men's basketball coach Dennis Gates. "Additional recognition for an already-enshrined Hall of Famer, reminds us of the impact his career continues to have today. He not only opened the door for Black coaches, but he is responsible for evolving the game and opening the door for all coaches, regardless of race."
McLendon, who led the Cleveland State men's basketball program for three seasons, returned to the university in 1991 in an advisory role within the athletics department, while also using his wisdom and knowledge to teach a course on the role of minorities in sports "History of Sports and the Role of Minorities in its Development."
"It's an honor to serve in the same role Coach McLendon once held at Cleveland State University and to continue his legacy of leading the young men of this program both on and off the court," said Gates. "Congratulations to Coach McLendon and his family for receiving this incredible award."
Prior to his time at Cleveland State, the longtime college basketball coach was named the head coach of Cleveland's professional basketball team, the Cleveland Pipers of the National Industrial Basketball League (NIBL) in 1959, making him the first African American head coach in the modern era of professional spots. McLendon led the Pipers to a 24-10 record in the 1960-61 season, winning the NIBL title.
McLendon, who died in 1999 at the age of 84, was born in Hiawatha, Kansas, in 1915. He became enthralled with basketball in his childhood. After high school, he attended a junior college in Kansas City, Kansas, where he was a member of the basketball team.
He then transferred to Kansas, where he wasn't allowed to play on the basketball team due to segregation policies, but he was able to pick the brain of Dr. James Naismith, the inventor of basketball and director of athletics at Kansas.
While learning from Naismith, McLendon developed his own coaching strategies and invented the up-tempo style of play that is prevalent today, with pressure defense leading to fast-break offense.
After coaching at the high school level, McLendon went on to coach college basketball at the North Carolina College for Negroes, now known as North Carolina Central (1941-52); Hampton (1953-54); Tennessee A&I, now known as Tennessee State (1955-59); Kentucky State (1964-66); and Cleveland State (1967-69).
Coach John McLendon dedicated his life to student-athlete success both on and off the court. He was steadfast in breaking down barriers and achieved the impossible as a basketball coach and educator at Cleveland State University.
In conjunction with the Theodore Roosevelt Award announcement, Cleveland State has launched the John McLendon Enrichment campaign, which aims to support overall student success with emphasis on academic, professional and social development.  Click here to learn more: http://www.csumclendoncampaign.com/. 
Donations made through the end of February will be included in a Cleveland State University contribution to the McLendon Minority Leadership Initiative in honor of this prestigious recognition. 
#GoVikes
 ###