Posted on May 20, 2021 at 2:59 PM, updated May 20, 2021 at 3:52 PM Print
​​​​​​​David Reynolds, Key Private Bank executive, elected to role of chair
CLEVELAND (May 20, 2021) – The Cleveland State Board of Trustees this morning elected new officers to leadership roles.
David M. Reynolds, private banking executive and national director of channel management and client acquisition for Key Private Bank, has been elected chair of the Board of Trustees. Reynolds has served on the Board since 2017, and replaces David H. Gunning, whose term has ended, as chair.​​​​​​​​​​​​​​​​​​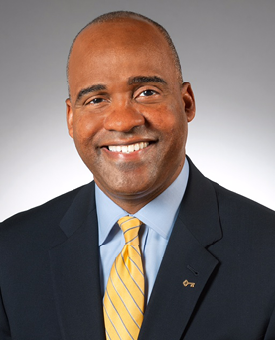 ​​​​​​​
"I am so honored to have been elected chair and I look forward to working with the CSU family as we advance student success, develop new programs and build new partnerships throughout Northeast Ohio and beyond," said Reynolds.​​​​​​​​​​​​​​
In his role at Key Private Bank, Reynolds leads the strategic development and national implementation of wealth management and client acquisition strategies by ensuring collaboration alignment between wealth management and other lines of business.
Before joining KeyCorp's Private Bank in 2015, Reynolds was managing director of JP Morgan's Private Bank in NE Ohio since 2009. Prior to JP Morgan, David was director of Northern Indiana for Merrill Lynch where he spent almost 15 years. He earned a bachelor's degree in finance and management from Walsh University.
Reynolds is highly visible in the Cleveland community and has a passion for helping to educate at-risk children. In addition to serving as chair of CSU's Board of Trustees, he is chairman of the Board of the Friends of Ginn Academy, the only all male public high school in the state of Ohio, and past chairman of the Board of Karamu House, the oldest African American cultural arts institution in the country. Reynolds also serves as a board director at University Hospitals Cleveland Medical Center and the Great Lakes Science Center.
"I am very excited about working with David in his new capacity as Board chair," CSU president Harlan Sands said. "No one is more passionate and committed to our students, staff and faculty, and I know he will be a great trustee leader and collaborator."  
Timothy J. Cosgrove remains vice chair of the Board. Lisa K. Kunkle was elected treasurer and Patricia M. DePompei was elected to serve on the board's executive committee.
Timothy Cosgrove is currently serving his second term on the CSU Board of Trustees, having previously served from 1997 to 2007. He is a partner with the global law firm Squire Patton Boggs and is among Ohio's best connected and influential government relations professionals. Cosgrove is a two-time CSU graduate, earning both his law and bachelor's degrees at the university.
Lisa Kunkle is senior vice president, general counsel and secretary for Avient Corporation, formerly PolyOne. Before joining PolyOne in 2007, she was a partner with Jones Day where she provided counsel to clients on executive and director compensation programs, corporate governance and corporate compliance. Kunkle joined the CSU Board of Trustees in 2015.
Patricia DePompei, appointed to the Board in 2019, is president of University Hospitals Rainbow Babies & Children's Hospital and MacDonald Women's Hospital. Prior to assuming that role in 2012, she served the institutions as vice president of nursing and patient care operations.
Read more on the CSU Board of Trustees and its members.
###
About Cleveland State University
Founded in 1964, Cleveland State University is a public research institution that provides a dynamic setting for Engaged Learning. With nearly 16,000 students, ten colleges and schools and more than 175 academic programs, CSU was again chosen for 2021 as one of America's best universities by U.S. News & World Report, including the #1 public university in Ohio for social mobility. Find more information at www.csuohio.edu.