Posted on November 3, 2022 at 10:52 AM, updated November 9, 2022 at 3:28 PM Print
The time is now for Mourning [A] BLKstar. The CLE-based musical ensemble has been wowing audiences for years, led by an iconic CSU figure. 

Now they're headed to Europe.
In dedication to "servicing stories and songs of the apocalyptic diaspora," Cleveland music fans might find iconoclastic parallels in Mourning [A] BLKstar (M[A]B) to Pere Ubu in the 70s, or Nine Inch Nails in the 90s—both inhabiting and being absolutely of their time—but that's where all the comparisons end. 
The futuristic soul-funk ensemble approaches music from an entirely different mystical and societal headspace—and the creative direction for it began in a more embryonic form right here at Cleveland State University.
M[A]B was formed in 2015 by producer/activist, music director and former editor of CSU's The Vindicator, RA ("Fiq," "Rafiq") Washington—who also plays bass guitar and samples in the group. With a focus on themes of self-reflection, recalculation and putting in the work to find one's role to better society, M[A]B has spent the last seven years melding Afrofuturistic funk, soul, blues, electronics, hip-hop "lo-fi," avant-poetics, punk-rock ethos and futurist beats. The Cleveland-based musical ensemble "with a multi-generational, gender and genre non-conforming amalgam of Black Culture" has been wowing audiences for years.
"It was an outgrowth from my old interests," Washington (front row, left) told Medium reporter Thomas Gerbasi several months ago in an interview. "I wasn't really expecting anybody to actually check it out."
But check it out, people did. It's tempting to call M[A]B Cleveland's "next big thing" in popular music. But the moment for that sort of hyperbole has long passed. It's better to say the group is the city's (and our country's) now.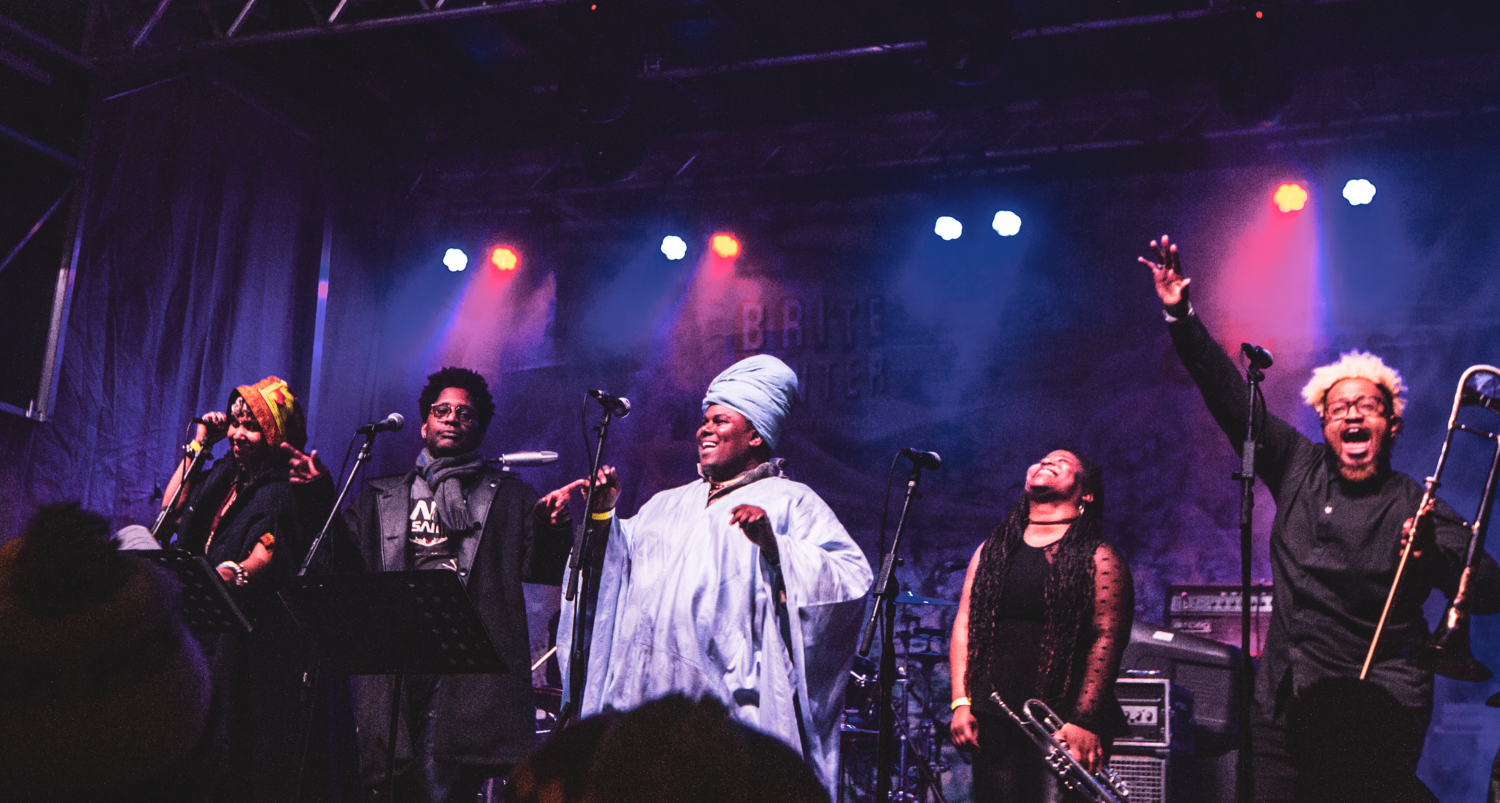 "Destiny Skies" with Wide-open Eyes
Washington recalled the genesis of the group as being "a series of like-minded creative spiritual connections made that continued to build as time went on" and that from there the democracy of how the art being created continued to build as they played off one another.
"We just sort of feed off each other's perspectives and energies and build from there," Washington told CSU in an interview at the Beachland Ballroom "College Radio Summit" in the city's Collinwood neighborhood back in August.
"We never start in the same spot. Sometimes it starts with a lyric, or a sample or a sound, a melody… we kinda edit each other and, discuss. But we are definitely a collective, and that's the consistent spot we begin from. We talk to each other, listen, tumble ideas—and you sometimes eat your emotions to keep the creative process moving and the juices flowing," Washington added with a laugh.
"Um, so I guess the moral of the story is democracy takes time?" he smiled.
"But you know, you gotta be willing to talk to each other and as a result, our music comes together based on respect—for expertise, experience, where and how we choose to inject or interject," Washington added. "Because of that, it sounds great. Everyone here has their niche where they operate, create and intermingle."
In the same breath that Washington calls M[A]B a "familial" democracy, he also identifies the group itself as "a liminal space for ideas when we're together" and there's a shared "stewardship" of that community. So, it's "all one, but individuals who travel well together," so to speak?
"I think that is reflected in the music—not just in themes we present, but in sound, tone, presence, emotion. Everything belongs exactly where it is. When you have that honoring of experiences and a purposeful creating in this human space together, it isn't actually that hard," Washington smiled.
"Once we're all on the same wavelength, our songs just happen pretty easily, pretty quickly. So, it's never a selfish experience. It's always brought together in a very open, thoughtful and respectful way."
As for traveling, there's no "so to speak" about it, as you'll read. M[A]B is on the move.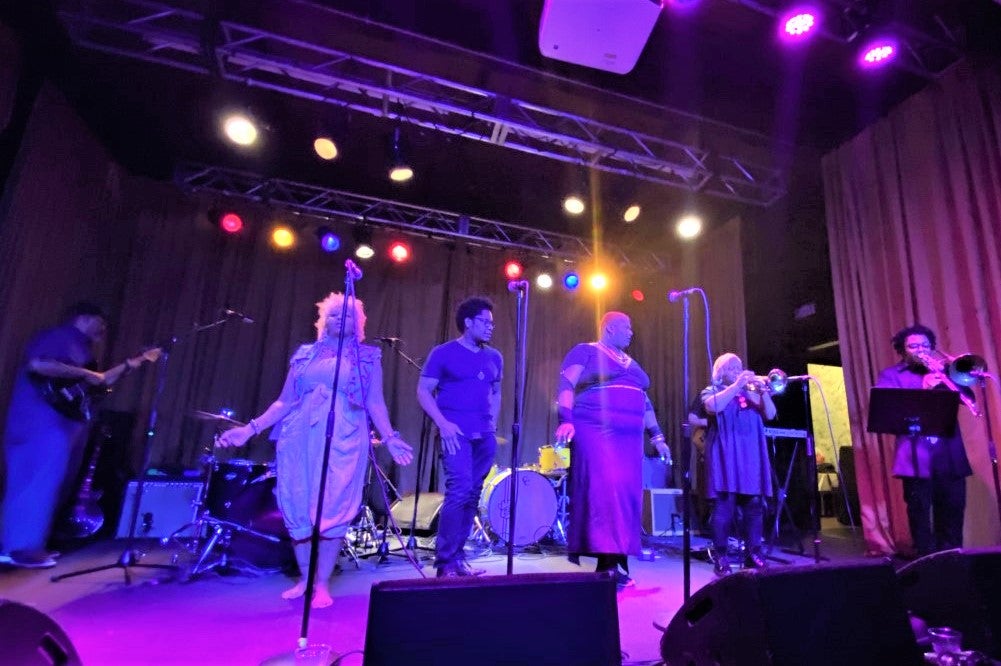 Making Waves + Crossing Oceans
Last year, M[A]B won the esteemed Cleveland Arts Prize "Emerging Artist – Music" for their work. It came two short years after performing at The Kennedy Center in Washington DC and receiving a "WOW Moment" praise award at the South by Southwest Music Festival in Austin, Texas from no less an authority than National Public Radio. Their latest album, "The Cycle" is also earning deep-listen kudos:
Popmatters noted that M[A]B is bringing "necessary secular gospel for healing a damaged nation," through a gestalt of culture, geography and sound. Discogs.com cites M[A]B as creating songs of "both eulogy and revolution," "the expansion of 21st century black consciousness" and sees "deep conviction, purpose, and weight in the songs."
Allow a translation: if you're not tuning in, you're missing out.
Philadelphia-based label Don Giovanni Records—which already has a reputation for supporting and working with female-fronted and LGBT artists such as Screaming Females, Waxahatchee, Lavender Country, Laura Stevenson, Downtown Boys, she/her/hers, and Alice Bag—released "The Cycle." It's timely, timeless and mindful that both are precious.
The band, which also features James Longs (vocals), LaToya Kent (vocals), Kyle Kidd (vocals), Dante Foley (drums), Theresa May (trumpet), Pete Saudek (guitar/keyboards) and William Washington (trombone), is taking that precious nature to heart, particularly since COVID-19 upended much of their recent touring plans. Now they're off to Europe, riding a wave of critical acclaim and several extremely deep, moving albums.
The tour starts this weekend. Mourning [A] Blkstar's 2022 European Tour dates are as follows:
Saturday, November 5: Crossing Borders - The Hague, Netherlands (w/ Lonnie Smith)
Thursday, November 10: Le Guess Who - Utrecht, Netherlands
Saturday, November 12: Cosmic Awakening - Berlin, Germany (w/ Lonnie Smith)
Thursday, November 17: Spazio Teatro - Milan, Italy
Saturday, November 19: Ex Concento San Francesco - Pordenone, Italy
Sunday, November 20: Teatro Delle Logge – Montecorsaro, Italy
More new music is on the way as well. Learn more at www.mourningablkstar.com.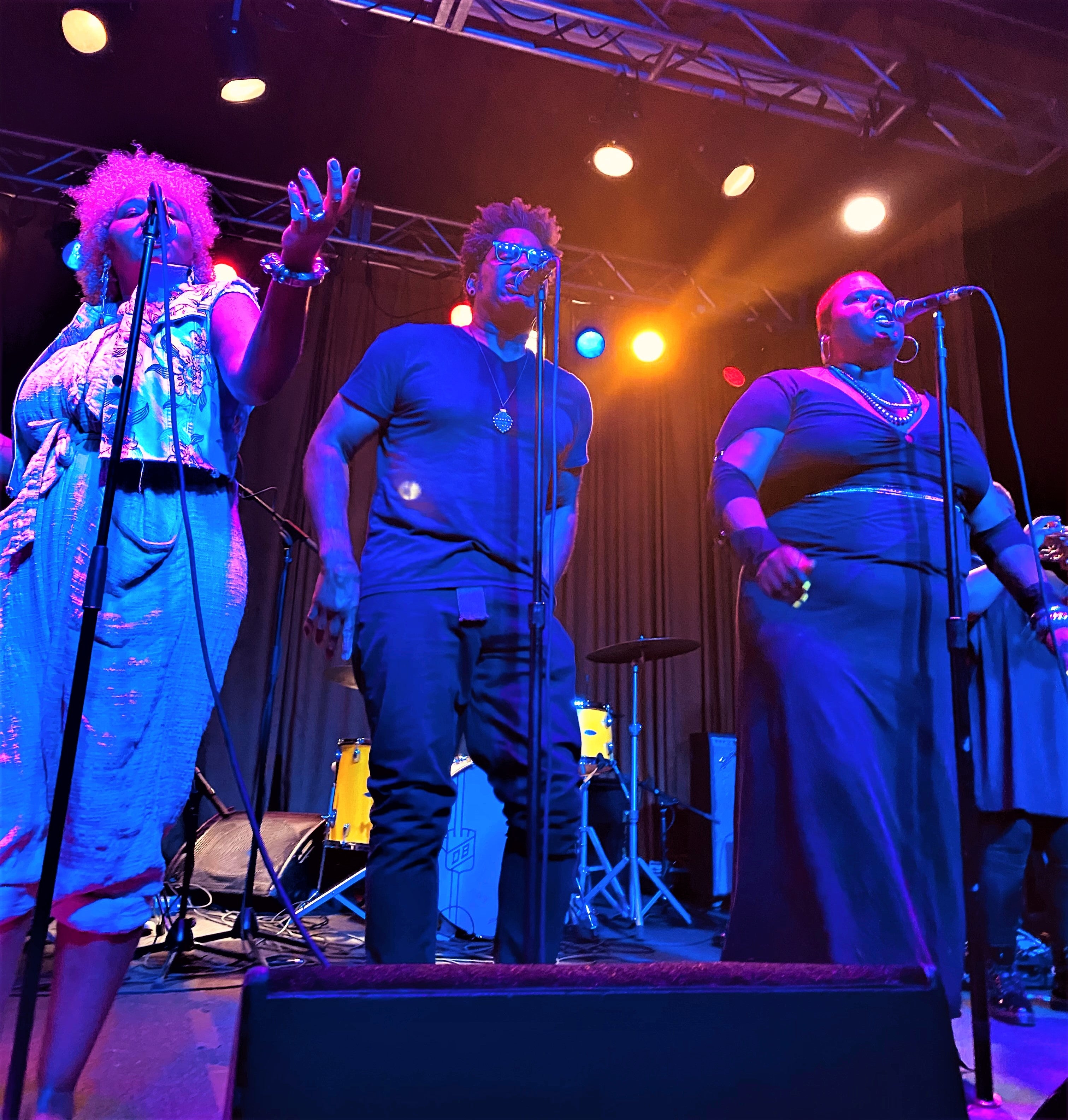 M[A]B and the CSU Connection
Some of you may recognize Washington from his tenure in the Gordon Square neighborhood as the owner of the Guide to Kulchur bookstore. Other Vikings of a certain age will also remember Washington's time in the highly regarded Black Poetic Society on campus in the early 1990s. At that time, Cleveland's poetry scene was alight, making a name for itself regionally and at national poetry slams.
Those Vikes might also recall that, in 1994, CSU's The Vindicator completed its transition from Black magazine to multicultural publication—doubling in size to a whopping 72 pages—on Washington's watch as its editor-in-chief.
Washington said that his experiences at CSU and in Gordon Square, with the magazine and bookstore respectively, inform how he approaches his art with M[A]B and beyond today. Listening to the band lands that point effectively and repeatedly.
"Art can be a great catalyst for change and a great place for critique. [My time at The Vindicator] was an interesting period of time at Cleveland State," Washington said in a 2020 interview on the occasion of The Vindicator's 50th anniversary.
"We would explore a topic and have a long format, leaning closer to academic essay about that topic," he said. "We had book reviews, opinion pieces and music reviews that connected around the topic."
Washington recalled the "push the Cleveland State community to be world citizens and for the students to view the university as good a school as any in the United States." He also urged for the publication's circulation outside the university, to help reinforce that statement.
"You would see Vindicators everywhere, not just on campus," he said. "It is really important for the students to take advantage of their opportunity to speak and develop that muscle as productive and critical citizens to one of the greatest countries in the world," said Washington, who contributed to The Vindicator until 1999.
Fast-forward to today and M[A]B and you quickly feel that same "be a world citizen" spirit and soul front-and-center. It brings the Jean-Baptiste Alphonse Karr's epigram, plus ça change, plus c'est la même chose to mind. ("The more it changes, the more it's the same thing.")
"That's true on so many levels, man. Not just in exploring creatively for us, but with everything going everywhere," Washington finalized in the August 2022 interview with CSU at the Beachland. "Cleveland, the CSU campus and the entire country are all at another pivotal place in history, and we all gotta keep talking and doing about all of it. It's growth. We all gotta show up for each other."
Photos courtesy of Mourning [A] Blkstar