Posted on July 21, 2022 at 3:12 PM, updated July 22, 2022 at 9:59 AM Print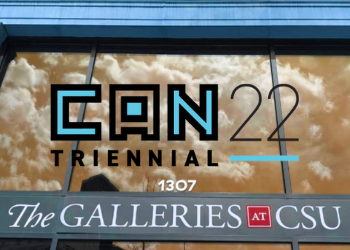 The Collective Arts Network (CAN) Triennial is a regionally focused exhibition featuring Northeast Ohio artists, selected by an intergenerational and diverse curatorial team, and representing this moment in time, place, and history in Cleveland.
Conceived in 2016, the current iteration running through August 31, 2022 in more than a dozen venues around Cleveland—including The Galleries at CSU and Bonfoey Gallery on Euclid Avenue.
The 2022 edition is entitled "You Are Here," organized in collaboration with an intergenerational, diverse team of curators from a range of institutional affiliations. The curatorial team has assembled many unique exhibitions "that will, at times, examine place and location, and at other times skewer notions of culture and politics, and will also map to discussions around presence and loss."
A wide swath of local and regionally acclaimed artists are participating in the CAN Triennial, 30 in all, including 2014 Cleveland Arts Prize winner Kasumi and Leigh Brooklyn, internationally renowned artist known for her "Women's Militia" series. The marquee sponsor and organizer of this exhibition is the Collective Arts Network, a nonprofit organization of more than 95 art galleries, schools, and related institutions, plus individual artists.
Members of CAN support and collaborate on the Northeast Ohio art scene's own media outlets and CAN Journal (print and online) which provide a collective voice for galleries, organizations, artists, and independent reporting and commentary on art, artists, exhibitions and more.
Membership in CAN is open to organizations whose main purpose and business is the exhibit, sale, or education about art in Ohio—and to all artists living, working, or exhibiting in Northeast Ohio.
It's hoped that the Triennial exhibitions will give those from the region an experiential journey through the literal geography of the city, and the ever-complicated situational understandings of place, context, identity, and ultimately, to action.