Posted on November 6, 2017 at 10:02 AM, updated November 6, 2017 at 12:05 PM Print
New book chronicles city's efforts to address urban decline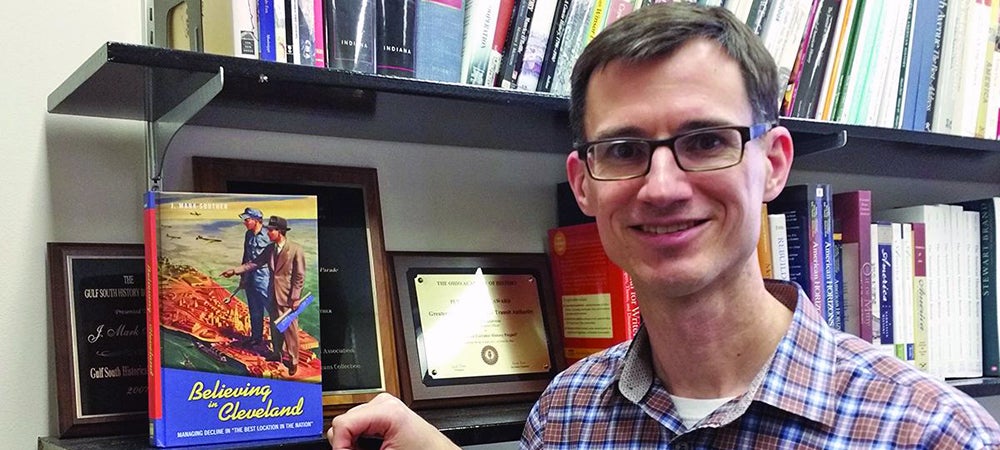 Detractors may have called it "The Mistake on the Lake" but its other monikers have included "America's Comeback City" and "The Best Location in the Nation," so what is the real Cleveland, Ohio? In the new book Believing in Cleveland, J. Mark Souther discusses the often complex national image of the consummate rust belt city, while also chronicling how local leaders used imagery and rhetoric to combat and, at times, accommodate urban and economic decline.
Souther, professor of history at Cleveland State University, explores Cleveland's path through the 20th century, including its reign as one of America's most prominent metropolises and its fight against urban decay and deindustrialization. This includes a comprehensive review of the city's overall decline in the postwar era, its causes, and how the local government's often inadequate response added to the challenges, while reinforcing a growing sense of community malaise. He also shows how the city worked to reshape its image while revitalizing its economy, bolstered by the opening of the Rock and Roll Hall of Fame, the rise of the local health care sector and recent sports team victories.
"Cleveland went through a long, difficult period that has directly impacted how the city sees itself and how it is perceived nationally," Souther says. "It entered the postwar world as America's sixth largest city and one of its leading industrial meccas, then lost almost everything, including its economic position, a significant portion of its population and most importantly civic pride."
But rather than just tell a tale of decline, Souther seeks to show how the city and its citizens grappled with its negative national image and searched for signs of a turnaround. He demonstrates that the city's trajectory has been less a path from decline to revitalization than an ongoing struggle to manage its long-term economic transition.
"As we look at the recent spate of good news about Cleveland, we would do well to recall how fragile and uneven the current comeback really is. Over the last decade Cleveland has certainly made great strides toward revitalizing, but history shows that we have been similarly bullish in the past, only to meet disappointment," Souther adds. "Through this book I want to sound a cautionary note about overreliance on image campaigns."
The book is published by Temple University Press and is available through Amazon and at local bookstores.
###