These pages were designed to help you navigate a new campus, and perhaps a new city. The resources gathered here (left column) provide insight across a range of subjects: information about the region, networking opportunities on and off campus, tips and training about tenure, promotion, and reappointment—even simple things like where to get your first parking pass and ID.
We're glad you've chosen to make CSU home. Our faculty are one of our greatest resources. We are invested in your success and the opportunities it generates for our students, the campus, and the broader community.
---
Launch Teams & Mentoring Support
CSU matches new full-time faculty with Launch Teams, a circle of advisors where several faculty members are assigned to support the development of a new colleague. Launch Teams are there to help new faculty learn about CSU, make connections and enhance campus networks, and get to know the city of Cleveland and the region. The teams are meant to be advisory, providing advocacy and support as necessary. New faculty will be individually connected with their launch teams in their first semester on campus and will receive email announcements about campus-wide Launch Team activities and unit-level support.
---
Calendar of New Faculty Events
CSU provides ample training and resources for new faculty. Follow this calendar for upcoming opportunities to connect, how-to sessions, and other relevant events:
---
Faculty Mentoring Fellow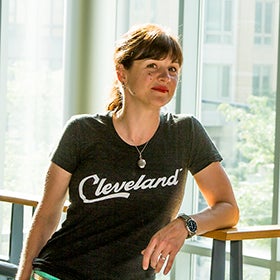 Jennifer Visocky O'Grady is a full professor in the Department of Art and Design at Cleveland State University. In more than two decades at CSU she has served in numerous campus leadership roles including multiple terms as a faculty senator, former chair of the Department of Art and Design and co-convener of the university-wide Chairs' Council, and chair of her department's Peer Review Committee. Visocky O'Grady is also an active member of civic and professional communities, where she has served on multiple local and national boards and has been recognized for raising standards of excellence and conduct. 
In 2020, Professor Visocky O'Grady accepted the role of Faculty Mentoring Fellow. She works with the Mentoring Task Force, the Provost's Office, and other constituent groups across campus to expand career and academic mentoring for new faculty, build networks and enhance connectivity, and compile resources for institutional navigation. You can reach her at j.visocky@csuohio.edu.
Photo: © RayLaVoie.com