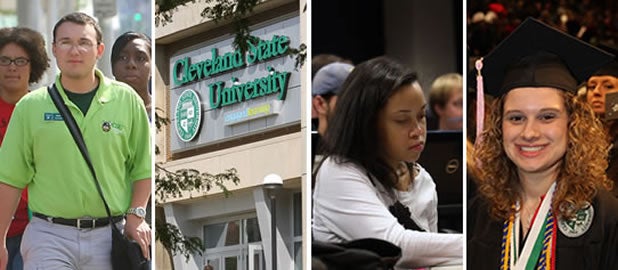 ENROLLMENT SERVICES MISSION, GOALS and VALUES
The Division of Enrollment Services is committed to providing outstanding services to students and the wider campus community by developing and maintaining collaborative relationships and utilizing a series of highly integrated information systems and a robust reporting environment to achieve the following goals:
To attract, admit, enroll, retain and graduate an optimal student body for Cleveland State University, in accordance with academic policies and initiatives and campus priorities to fulfill the University's mission;
To manage a campus schedule of course offerings; to register students; maintain the permanent academic records; issue transcripts, grades, certifications and diplomas;
To administer federal, state and institutional financial aid and scholarship programs;
To provide information and services to students and families about post-secondary education options;
To facilitate the development, implementation and monitoring of academic policies, practices and procedures and to assist in implementing such policies in order to meet the University's goals;
To play a leadership role in the development, implementation, maintenance, and assessment of effectiveness/efficiency of student information systems.
VALUES
Our enrollment success is predicated on our ability to serve. We intend to exceed expectations of those we serve by:
Removing unnecessary barriers to students
Reviewing all policies and procedures on a regular basis
Adopting a "first in the mailbox" approach when responding to student requests
Providing accurate and timely information
Anticipating student needs
Simplifying, simplifying, simplifying
Shifting roles from regulators to educators
Facilitating student mastery of enrollment processes
Providing convenient services
Identifying and solving system problems
Creating a culture that values service and fosters mutual respect between staff and those they serve.