The purpose of this program is to allow undergraduate students to obtain funding to offset the costs associated with doing research undertaken in a CSU credit-bearing course. Previously named the Graduate College and Provost's Undergraduate Research Fund. Review the guidelines below for more information.
Guidelines & Cover Page
Featured Award Winner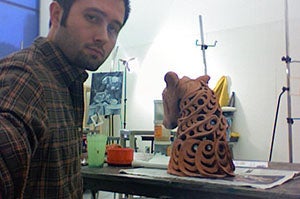 Ryan Upp, Fall 2012 Award Recipient
Art Department
College of Liberal Arts and Social Sciences
"I can not thank you enough for this opportunity. I was able to purchase the materials to complete the 12 large scale art pieces shown above. I have since been offered a solo show by June Hund on Case Western's campus and a solo show at Jade Gallery in Chesterland. Individual pieces have been shown at The Sandusky Cultural Center, The Cleveland Raw Artists Event, and at The Galleries of Cleveland State."
Click each image above to see a closer look at Ryan's artwork.