Thank you to the nearly 1,600 guests who attended Cleveland State University's 2014 Spring Open House! We hope you enjoyed your visit! Please feel free to contact our Office of Admissions at 216.523.7416, 888.CSUOHIO, or admissions@csuohio.edu with any follow up questions.

Check back here next year for details about the 2015 event.
---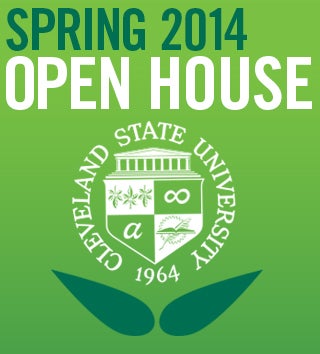 We're opening our doors to prospective and admitted students and parents, alumni and members of the community for a fun day of information and exploration.
Spend the entire day or stop in for just a few hours to pick and choose from a wide range of campus activities. Find a major, tour the new and renovated student residence halls, learn more about financial aid, talk to academic advisors, meet current students and more!
Plus, if you haven't applied to CSU yet, bring your transcript and test scores to apply for an instant admissions decision!
Other Highlights include:
Student-led campus tours
A campus fair featuring CSU programs, departments, centers and student clubs
Information sessions throughout the day
Special presentations in CSU colleges
FREE parking in all University garages (except Prospect Garage)
The Recreation Center will also be open to the public. Discounts will be available at Student Center eateries and Viking Outfitters bookstore and apparel.