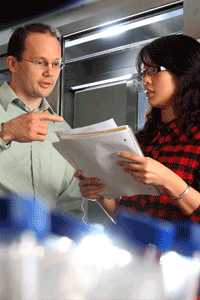 The faculty and instructional staff at CSU are an integral part of your learning experience. Take advantage of their knowledge and skills.
When do I need to communicate with faculty?
Contact the faculty when you have questions about your courses, the syllabus or assignments in your classes. Contact faculty to notify them about your attendance. For example, you may want to e-mail them to let them know when you will be out sick or have a family emergency. Finally you may want to contact faculty about research opportunities or letters of recommendation.
How do I contact faculty?
You may want to talk with faculty before or after class. It is not appropriate to use class time to address personal issues.
Most faculty have set office hours when they will be available to meet with students face to face. These hours are usually posted on the syllabus or may be obtained from the departmental secretaries.
Always address faculty professionally:
Usually Dr. SoandSo or Prof. SuchandSuch.
You may want to e-mail faculty when you have a question or concern.
Either use the e-mail available in Blackboard or Use a professional e-mail address. CSU provides one for you.
Always write in standard English. Text message shorthand is not appropriate; remember this is a professional communication.
Be sure to include:
your name
the class name, day and time that you are e-mailing about
your CSU ID number
the reason for the email
You may also call faculty when you have a question or want to set up an appointment outside of office hours. Be sure to leave a complete message, identifying yourself, the reason for your call and include the best times to return your call.