Welcome from the Vice Provost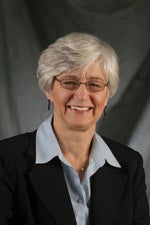 Welcome to undergraduate studies at Cleveland State University! I am delighted to coordinate this new division that seeks to integrate programs and services for students.
I first came to Cleveland State University in 1984 and taught undergraduate and graduate students in the College of Education and Human Services for more then 20 years. During that time I focused on classroom teaching- how to improve my own teaching and how to help others improve their teaching. My research interests also focused on teaching – most recently on understanding the emotions teachers experience when teaching.
I know that CSU students lead complex lives and they often have to overcome significant challenges in order to gain a degree, complete a certificate, or update their skills. In my office we seek to find ways to help students accomplish their goals and achieve academic success.
Please contact me or my staff if we can help.
Rosemary
Rosemary Sutton
Professor of Education and Vice Provost for Undergraduate Studies
MC 107
r.sutton@csuohio.edu
216 687 3924