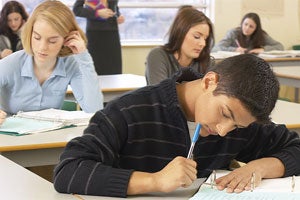 Cleveland State University – Testing Services offers proctoring services for independent study programs, web courses, online mid-term and final exams, personnel testing, and various national test requests for paper and/or computer based testing.
You must contact the university you are attending and
make arrangements to have your exam proctored at CSU.
Office/Testing hours are Monday through Friday, 8:00am to 5:00pm.
An appointment is required, call (216)687-2272 to schedule a time.
Fees: $40.00 for a 1-3 hour examination, $60 for a 3.5-6 hour examination.  Additional testing requirements may incur an added fee.  Contact the office for more information.
When scheduling an appointment it is helpful in determining a time if you know the following:

Computer or paper based
Length of time allowed to complete the examination (if you are not sure, 3 hours will be reserved for you).
Contact person's name, phone # and/or email address

You should call and confirm receipt of your testing instructions/materials at least 24 hours in advance of your scheduled appointment.