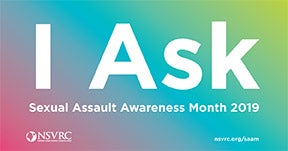 Sexual Assault Awareness Month is a campaign to raise public awareness about sexual violence and educate communities on how to prevent it. The campaign theme, I Ask, champions the message that asking for consent is a healthy, normal, and necessary part of everyday interactions.
Below are programs at Cleveland State University in April in support of Sexaul Assault Awareness Month:
"I ASK" Day of Action- Champion the power of asking
Tuesday, April 2, 11am-1pm, SC Atrium
Put consent into practice! How do you ask for consent in everyday situations like asking to hold someone's hand, or for permission to share a personal story? Talk to Peer Educators about tips for "how to ask" and tips for listening and accepting the answer.  Write how you ask for consent on a placard and take a selfie and encourage others to do the same. Sign up for Creating and Sustaining Supportive and Empowering Relationships or Empowered Bystander Training, and visit with on and off campus partners
Creating and Sustaining Supportive and Empowering Relationships     
Wednesday, April 10, 7:30 pm-8:30 pm, FT 102
Participants gain a better understanding of creating interpersonal relationships which are respectful of personal boundaries. Learn more about ways to empower your voice, healthy and unhealthy relationship flags and have clear communication about consent in sexual encounters. Tools to better support your peers and available resources on and off campus will also be highlighted.  Register at: https://orgsync.com/129871/forms/348293
Dessert & Discuss: Sexual Assault & Intimate Partner Violence Awareness." 
Monday, April 15 11:30-1p, in the LGBTQ+ Center (BH 211)
Discuss the impact of sexual assault and intimate partner violence in the LGBTQ+ community.
Empowered Bystander Training 
Tuesday, April 16, 11:30-12:30, Location- BH 420
In 60 minutes, learn strategies to intervene and help someone in unhealthy situ-ations that may include sexual violence, mental health, and/or addiction.  Register at: https://orgsync.com/129871/forms/348293