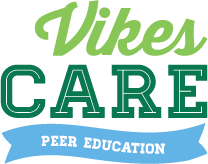 Below is a listing with descriptions of our Peer Educator led programs. If you would like to have our Peer Educators present on any of the topics, please fill out the request form at the bottom of this page.
Sexual Violence Prevention
Bystander Training – Learn how to become an "upstander" who promotes a safe and health campus culture. T-shirts are provided for participants.
Cup of Tea – Not sure what a cup of tea is? This session will help identify consent as well as provide information on campus policies and procedures with regard to sexual violence. 
 
Alcohol and Other Drugs (AOD)
Alcohol Bingo -  A fun, interactive way to reinforce the effects of alcohol, drinking and driving, why people drink, myths and facts and how to say no. Bingo prizes are awarded!
Just One More –Explore myths and facts of excessive alcohol consumption,  identify warning signs of alcohol abuse, and learn how to help a friend. A variety of methods including videos, hands on experiences, and role plays are part of the program.
Tobacco and other Drug Bingo – A fun way to get an overview or facts and effects of alcohol, stimulants, depressants, hallucinogens, tobacco, marijuana and other drugs. Bingo prizes are awarded!
 
Sexual Health
Sex Positive – Whether you're considering having sex or you're curious about the possibilities, SexPositive delivers sexual health information without the fear, secrecy, misinformation, judgment, and general negativity that often surrounds conversations about sexuality. This is an interactive program that uses technology to help with personal education about sexual health. 
 
General Wellness
Stress Bingo - A fun, interactive method to help participants recognize and understand personal  stress, identify stressors, and identify ways to alleviate the effects of stress. Prizes awarded  "bingos".
Vision Boards- Keep Stress in Check-  Personalize your stress management plan! Affirm your ability to manage college stress by identifying your stressors, understanding when your body is reacting to stress, and using a vision board to create your stress management plan. Participants will need to bring old newspapers, newlsletter, and magazines.
Takeout Makeover – Compare eating out versus healthy cooking savings and learn some easy, healthy cooking techniques while you're at it.
Tips for staying fit in college – Peer educators will give practical advice for staying "fit" in college.
Wellness Goal Setting  - Learn the secret to successful goal setting. Write goals that will help you accomplish academic, personal, social and professional endeavors. 
If you would like to become a Peer Educator, start here.