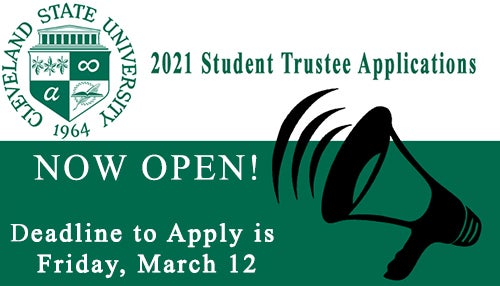 ​​​​​​​​​​​​​​
​​​​​​​The Student Representative to the Board of Trustees gives an opportunity for students to represent the students to the governing body of Cleveland State. They are exposed to a variety of complex issues that deal with higher education at the university and state level. Student trustees are given a rewarding experience by networking and working with prominent businesspeople in Northeast Ohio on the issues of the University. Student trustees also attend board social functions, university award ceremonies and more. CSU students interested in serving as a student representative on the university's Board of Trustees may apply starting on Monday, February 22nd. Application will close on Friday, March 12th at midnight.
ELIGIBILITY:
* PLEASE NOTE YOU MUST MEET THESE REQUIREMENTS!
Open to all full-time CSU students: Undergraduate Students ≥ 12 credits, Graduate Students ≥ 9 credits,  Law School Students ≥ 9 credits
3.0 cumulative GPA or higher
Current undergraduates must be at least Sophomore status at the time of assuming the position.
Must currently be a registered Ohio voter
Must be currently enrolled in an academic program, or already admitted to a graduate program,  that will continue (at least) until May 2022.
No student is permitted to simultaneously hold an SGA executive board position and serve as a Student Trustee
SELECTION PROCESS:
Ohio Amended House Bill 24, effective July 26, 1988, provides for appointments of students as non-voting members to the State Universities Boards of Trustees.
Each year, five candidates will be selected from the CSU student body; from these the Governor's Office will choose one student to serve a two-year term.
Student Affairs opens applications for two weeks to all students and advertise through campus email, newsletters, social media and other forms of communication.
Applicant eligibility is checked by a staff member in Student Affairs.
A student and staff committee selected by the Vice President of Student Affairs reviews the eligible candidate's applications and ranks the top ten.
A Faculty/ Staff member will meet with the top candidates to discuss the position and submits the list to President Sands.
President Sands sends a list of finalists to the Governor's office.
​​​​​​​You can learn more about the current student representatives by clicking on their names below:
Current Student Trustees

Member                  
DATE OF FIRST
ELECTION OR
APPOINTMENT
DATE OF START
OF TERM
DATE OF
EXPIRATION
OF TERM
Arlindo Ahmetaj

July 27, 2020

May 2, 2020

May 1, 2022

Allison K. Younger

June 21, 2019

May 2, 2019

May 1, 2021
More Information:
Bylaws of Cleveland State Unviersity Board of Trustees