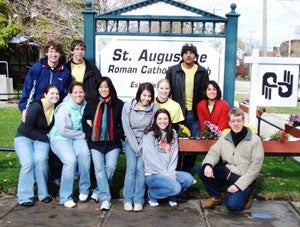 CSU students & staff volunteering at St. Augustine
Participating in community engagement offers amazing benefits:
Gain knowledge, skills and practical experience.
Apply classroom learning to real-world settings.
Expose yourself to an array of career choices.
Get on-the-job training.
Build friendships with staff, people served, and fellow service learners.
Make a difference.
Gain a global perspective to local issues of our local communities.
Become a lifelong volunteer and citizen leader.
Programs
Viking Expeditions – a student-led service organization that partners with a variety of agencies in the Greater Cleveland Area to address the needs of the local community while also providing affordable alternative break trips. 
Make a Difference Day – Cleveland State's fall day of service takes over 200 students, alumni and faculty/staff to area non-profit agencies to paint, complete murals, garden, work with youth, etc. 
Pay It Forward Day - Pay It Forward Day is about all people, from all walks of life giving to someone else and making a positive difference. As last count there were more than 500,000 people is 60 countries around the world participating on the day. In 2015, Pay It Forward Day will be held on April 30.
Community Service Links – Links to both local and national volunteer opportunities.