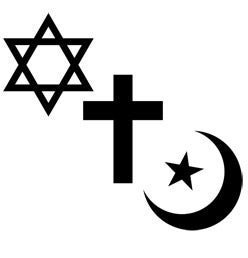 All Are Welcome!
Hillel at CSU / Muslim Student Association / Newman Catholic Campus Ministry /
United Protestant Campus Ministries / InterVarsity Christian Fellowship
Description
The Multi-Faith Communities Council (MFCC) at Cleveland State University (CSU) represents a diverse variety of faiths, traditions, and beliefs.  The council works peacefully and diligently on behalf of the university community to provide religious services, spiritual counseling, education, support, opportunities for involvement, and other general awareness programs. The council members actively sponsor student faith-based organizations at CSU and work together to guide, strengthen, and enhance the college experience. As a whole, the Council participates in volunteer opportunities on campus, assists with Weeks of Welcome (WOW) activities, and holds programs on campus to educate the community about religious opportunities and different faiths.
MFCC Mission
The Multi-Faith Communities Council (MFCC) at Cleveland State University (CSU) supports and encourages celebrating our diversity while discovering common ground in each of our own unique expressions of faith.  We are active in representing to our campus community the highest aspirations of constructive dialogue and mutual ministries of each faith community.  We foster deeper understanding and mutuality between all faiths, connecting the mind, heart, and soul through cooperation, community, affirmation, conversation, unity, peace, hope, love, and faith.
Services, Support & Opportunity
Working with issues of poverty, relationships, justice, service, sharing in worship, prayer, retreats, forums, studies, fellowship, discovery, and learning, the MFCC engages in a variety of activities.  MFCC members are on campus to provide guidance and support to students, engage in discussions surrounding faith and religion, and provide support.
MFCC Members
Hillell @ CSU
Email: info@clevelandhillel.org
Phone: 216-231-0040
Facebook: Cleveland Hillel
Website: www.clevelandhillel.org
Muslim Student Association
Email:clestatemsa@gmail.com
Facebook: https://www.facebook.com/ClevelandStateMSA?ref=hl
Twitter: @CLEstateMSA 
Instagram: @clestatemsa
YouTube: https://www.youtube.com/channel/UCLqTb9qVoeeZYry6a1bq3xA/feed
Newman Catholic Campus Minsitry
Email: CSUNewman@gmail.com
Facebook: Newman Catholic Community at Cleveland State University
Website: www.nccm.org
Twitter: @csu_newman
United Protestant Campus Ministries
Email: Office@upcam.org
Phone: 216-421-9614, x 301
Website: www.upcam.org
Facebook: UPCaM
Intervarsity Christian Fellowship (IVCF)/USA
Email: CSUIntervarsityundergraduate@gmail.com, globalIVCSU@gmail.com
Facebook: Global Intervarsity or Intervarsity Undergrad at Cleveland State