The Office of Research encourages graduate students to become actively engaged in research as well. Please visit the sections below for more information.
Featured Graduate Student Researcher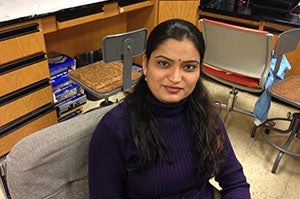 Rohini Vishal Khapre
Doctoral Candidate
Doctor of Philosophy in Regulatory Biology
Department of Biological, Geological, and Environmental Sciences (BGES)
College of Sciences and Health Professions
"My research focuses on the role of the Circadian Clock (our internal time keeping system) in aging and age related pathologies, with an emphasis on diet and its connection with a nutrient sensing pathway, mTOR. The first part of my dissertation work is published in the journal Cell Cycle, and for the second part of my dissertation work, which is submitted for publication, I recently won an award for "Outstanding Achievement in Research" at the 7th Annual Cleveland State Interdisciplinary Conference."
Check out our previous featured graduate student researchers.