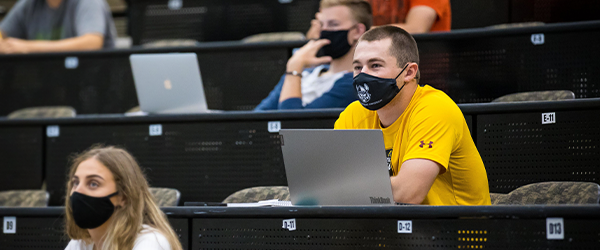 What to Expect
Free COVID-19 testing is available for all students, faculty and staff through Health & Wellness Services, Monday - Friday during normal business hours.

Contact tracing for on-campus cases will continue to occur using a contact tracing team in coordination with the Cleveland Department of Public Health ​​​​​​​
Testing
CSU's Health & Wellness Services is providing free COVID-19 testing for all students, faculty and staff on campus. You are encouraged to seek testing if you have symptoms, if you are asymptomatic but have been in close contact with someone who has COVID, or are otherwise concerned about your COVID status. We recommend contacting your health care provider before testing to ensure you are getting tested at the appropriate time interval for accurate results. In most instances, we will use the rapid antigen test with results available within a few minutes. In some cases, a PCR test will be better. Those are processed via an agreement with Cleveland Clinic and results are usually available within 2-3 days. 
  
You may also contact your health care provider or other testing resource (such as a pharmacy providing testing, or a local public health agency) for such assessment and testing. While awaiting COVID-19 PCR test results, students, faculty and staff should self-quarantine and avoid close contact with others. 
Contact Tracing
Contact tracing among the CSU campus community will be done by a university contact tracing team, which will coordinate with the Cleveland Department of Public Health for contacts who are not a student, faculty or staff member. All members of the CSU community should respond promptly to communications from the university's contact tracing team.
Contact tracing is a proven way to limit infection spread to others, but that team is only as effective as your responsiveness and support to their efforts to protect your family, friends and other members of our CSU community.
Surveillance Testing on Campus
For fall semester 2021, CSU will randomly select 5 percent of students who are registered for at least one class per week on campus for COVID-19 testing. The selected students will receive a text message and an email to their CSU accounts on the Wednesday prior to the week that they will need to go get tested.  
Students will have the option of either making an appointment for testing or being tested on a walk-in basis during specified hours. COVID-19 testing will take place on the 1st floor of the Center for Innovations in Medical Professions (2112 Euclid Avenue) building Monday – Friday from 10 a.m. – 2 p.m. Click here for surveillance testing FAQs.
Surveillance testing is another critical component of our efforts to keep everyone in our CSU community safe.  As with contact tracing, it is only effective if everyone participates when identified for testing. When you are selected for testing, we need your support and participation to help us keep everyone safe and healthy. Do your part when called!