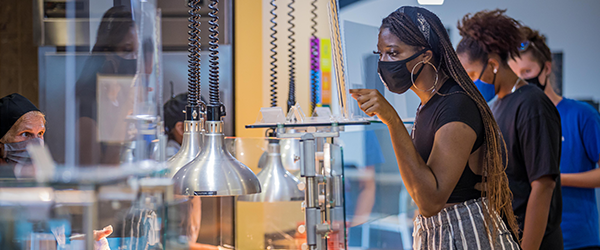 ​​​​​​​​​​​​​​
What to Expect
Dining and food and beverage options available on campus
On-site dining at Viking Marketplace with reduced capacity
Take out and grab-and-go options at all locations
GrubHub used to order ahead and reduce lines
Several different on-campus dining and food and beverage options will be available for Fall Semester.
Dine On Campus
Viking Marketplace will be the only location with on-site dining with reduced seating capacity to allow for proper physical distancing, and other safety and cleaning protocols in place. Viking Marketplace will be open Monday-Thursday from 7 a.m. to 8 p.m., Friday from 7 a.m. to 7 p.m. and on the weekends from 10 a.m. to 7 p.m. Check current hours of operation at csuohio.edu/safe-campus/operations. For more information on dining and meal plans at CSU, visit dineoncampus.com/csu.
Order Take-Out
Other dining locations that will be open for take-out only include Chili's, Papa John's, Outtakes Quick Cuisine, Viking Grounds, Starbucks and Fenn Shoppe. Remaining food and beverage locations on campus will be closed for fall. Snack and beverage vending machines across campus will continue to be stocked for fall.
​​​​​​​Order Delivery
To help reduce lines, the GrubHub ordering app will be used to place orders at all locations, except the Viking Marketplace. Dining hours at take-out locations will vary, but will be open between 6 to 12 hours per day during the week, with only a few of the locations open during the weekend.  ​​​​​​​