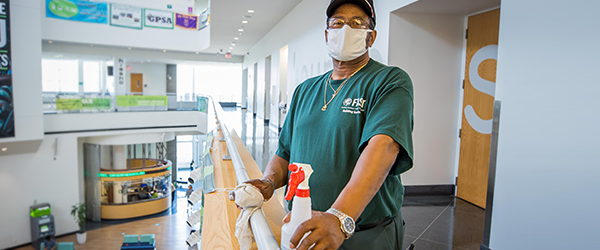 ​​​​​​​​​​​​​​
What to Expect
Enhanced protocols for cleaning and disinfecting in place across campus
More handwashing and hand sanitizing stations installed
Sanitizing wipes, cleaners and other materials widely available
Enhanced air filtration practices in place  ​​​​​​​
Cleaning and Sanitizing Procedures
CSU's Facilities Management and Ancillary Services teams are using enhanced protocols for cleaning and disinfecting classrooms, common areas and high-touch surfaces. Additional handwashing and sanitizing stations have been installed across campus, including at building entrances, in dining areas and outside of many classrooms. Signage encouraging use of hand sanitizer, proper handwashing technique and physical distancing have been installed across campus.
In addition to enhanced and more frequent cleaning of classrooms, cleaning materials, wipes, paper towels and sprays will be widely available and students will be expected to clean their desks and seating areas before and after use.
Enhanced air filtration is in use in the primary classroom buildings and other buildings where a concentration of activity is expected. The rate of air exchange in these building has also been increased to ensure fresh air circulation in all buildings.