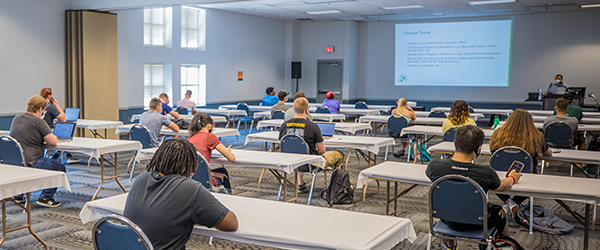 ​​​​​​​​​​​​​​
What to Expect
Roughly half of Spring courses on campus – the rest remote
Classrooms reconfigured to allow for physical distancing
Enhanced cleaning and sanitizing measures in place
Check CampusNet for course times, locations and teaching modes
For Spring Semester 2021, approximately half of total courses will be taught on campus, and the balance will be through remote teaching and learning. Priorities for on-campus instruction include courses where in-person instruction is required for licensure or graduation, most 100-level first-year courses and courses where faculty believe in-person instruction is needed for best learning outcomes.
Limited Campus Footprint
To keep our on-campus footprint predictable and manageable, only students with courses on campus or living in the residence halls, faculty teaching on campus and designated staff needed for essential operations or to support the increased campus footprint will be returning to campus for spring. All others should continue to study, teach or work from home.
Remote Class Availability
Where possible, on-campus courses will offer a remote option to accommodate students at high risk. Students who are immunocompromised and require an academic accommodation for an on-campus course should contact the Office of Disability Services for more information. Check the FAQ page for more information on remote options.
Revamped Campus Spaces
Classrooms, instructional labs and other learning spaces have been reconfigured to allow for physical distancing.  In some instances, courses have been relocated to larger spaces, such as the Wolstein Center, and additional sections have been added to some courses to reduce individual class size.
Cleaning and Sanitizing Procedures
Enhanced cleaning and sanitizing protocols have been developed to keep classrooms, common areas and high-touch surfaces clean.  Disinfecting wipes, spray cleaners and hand sanitizer will be widely available for students to wipe down their seating area before and after class.
​​​​​​​Check CampusNet Updates
Students should review their schedules in CampusNet for course times, locations and teaching mode (on-campus or remote, synchronous or asynchronous).