Jerzy T. Sawicki, Ph.D., P.E., F. ASME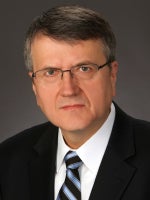 Vice President for Research
D.E. Bently and A. Muszynska Endowed Chair
Professor of Mechanical Engineering
Jerzy T. Sawicki, Ph.D., P.E., was appointed Vice President for Research at Cleveland State University (CSU) in May, 2013. He was interim Vice President for Research from June 2012 - May  2013, and was previously Associate Vice President for Research from 2010 - 2012.
Dr. Sawicki oversees the University's research enterprise and has overall responsibility for nurturing excellence in research, scholarship and creative activities across the campus. He is responsible for research administration and policies, research and compliance, technology transfer, and commercialization efforts.  Dr. Sawicki serves as the President and CEO of the Cleveland State University Research Corporation (CSURC), a 501(c)(3) organization structured to accelerate industry-sponsored research, technology licensing, and creation of start-ups from university-developed intellectual property.
The Office of Research led by Dr. Sawicki is particularly focused on alleviating the challenges facing faculty engaged in research, whether related to University policies, or to financial or administrative systems.  Additionally, Dr. Sawicki works with the President and Provost to foster and promote innovation and entrepreneurship across the campus. 
Dr. Sawicki joined CSU as an assistant professor in 1993. He is the Donald E. Bently and Agnes Muszynska Endowed Chair, professor of mechanical engineering, and Director of the Center for Rotating Machinery Dynamics and Control.  His research interests are in the area of structural dynamics, automatic control, rotordynamics, magnetic bearings, mechatronics, and structural health monitoring. He has published over 200 peer-reviewed journal papers and conference articles, one research monograph, co-edited three books, and has advised numerous graduate students, post-docs, and research scientists. Dr. Sawicki  currently serves as an Editor-in-Chief for the ASME Journal of Engineering for Gas Turbines and Power. He has served as a program committee member, organizer of special sessions, and an invited or keynote speaker for numerous international conferences. From 2014-2017, he was a member of the Executive Committee of the Council on Research (CoR) of the Association of Public and Land-Grant Universities (APLU).
Dr. Sawicki holds a Ph.D. in mechanical engineering from Case Western Reserve University, an M.S. in mechanical engineering from Gdansk University of Technology, Poland, and an M.S. in applied mathematics from the University of Gdansk, Poland. He is a Fellow of the American Society of Mechanical Engineers (ASME), U.S. representative to the ISO/TC 108/SC 2/WG 7 international committee, recipient of several Best Paper awards, the University Distinguished Faculty Award for Research, and the Siemens-Westinghouse Distinguished Speaker honor. Dr. Sawicki received the Ohio Outstanding Engineering Educator Award from the Ohio Society of Professional Engineers and he is a registered professional engineer licensed in Ohio.
CONTACT INFORMATION
Email: j.sawicki@csuohio.edu
Phone: 216.687.9364
Parker Hannifin Hall 203
2121 Euclid Avenue
Cleveland, OH 44115
Joy Yard, administrative coordinator, 216.687.9364, j.yard@csuohio.edu