Shilpa Kedar
Executive Director, Digital and IoT innovations, Cleveland State University
Co-Executive Director, IoT Collaborative, iotcollaborative.org
Office Location: PH 311
Phone: 216.687.9310 / Email: s.kedar@csuohio.edu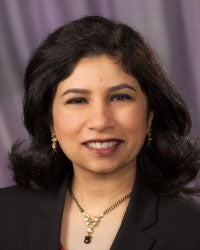 Shilpa Kedar is Executive Director, Digital and IoT Innovations charged with leading University efforts in fostering foundation research, development, application and education of digital and Internet of Things (IoT) technologies through cross-cutting, innovative collaborative engagement across campus and beyond. On behalf of the Office of Research, Ms. Kedar is fostering the establishment and growth of a faculty-led center designed to advance cutting-edge multi and transdisciplinary research related to IoT and digital innovations and build strategic initiatives that address community issues. She also serves as Co-Executive Director of the IoT Collaborative, an unprecedented collaboration between a public and private university, namely Case Western Reserve University. She cultivates relationships with partners in industry, federal and state agencies, the public sector, and philanthropic communities to further the University's goals related to the digital economy.
Ms. Kedar joined Cleveland State in early 2019, after working at the Cleveland Foundation for over a decade, most recently as Program Director, Economic and Workforce Development. She played a key role in many of the Foundations' collaborations and initiatives in the area of economic transformation and inclusive growth.  Prior to working in philanthropy, she worked for Team NEO leading regional responses to multiple business attraction opportunities in alliance with economic development partners and private sector players. Prior to coming to Ohio, she was with the Indian Institute of Management, Ahmedabad working as research associate focusing on the applications of information and communications technology for development. She served as editorial associate for the newsletter Information Technology in Developing Countries and researched gender issues in the telecom sector and co-authored paper read at a conference.
In her civic capacity, she is Partner with Social Venture Partners, Cleveland where she cultivates effective philanthropists and strengthens nonprofits to tackle Cleveland's social challenges.
Education: 
Master of Non-profit Organizations, Case Western Reserve University
Post graduate Diploma in Management (MBA equivalent), Som-Lalit Institute of Management Studies
Bachelor of Business Studies, Delhi University
Areas of Expertise:
Economic & Workforce Development
Inclusive Economic Growth
Technology in Society