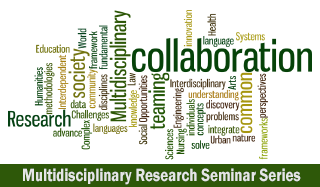 The Office of Research recognizes the importance of an environment that enables, encourages, and rewards multidisciplinary and collaborative risk taking to solve the broad challenges in our increasingly complex world. To enhance collaboration across the University to creatively and meaningfully address the needs of our community and our society, we are pleased to announce the CSU Multidisciplinary Research Seminar Series.
This monthly seminar series will provide CSU faculty with the opportunity to share their research interests with a broad audience, to learn about the research of their colleagues across the University, and to develop wide-ranging collaborations. The seminar series will also include invited seminars by well-known speakers from across Northeast Ohio. Seminars will cover academic subjects as well as multidisciplinary issues such as creativity, risk-taking, and innovation.
All seminars will be held in PHH-104 on Fridays, from 12:00 – 1:15 pm. Light lunch will be provided. 
Seminar Dates for AY 2017-18
| Date | Speaker |
| --- | --- |
| Friday, September 15, 2017 | Peter Niewiarowski, University of Akron |
| Friday, October 6, 2017 | Mark Souther, Cleveland State University |
| Friday, November 3, 2017 | Mark Sundahl, Cleveland State University |
| Friday, December 8, 2017 | Geoffrey Vince, Cleveland Clinic |
| Friday, February 2, 2018 | Kalle Lyytinen, Case Western Reserve University |
| Friday, March 9, 2018 | Andrei Gudkov, Roswell Park Cancer Institute |
| Friday, April 6, 2018 | J. G. M. "Hans" Thewissen, Northeast Ohio Medical University |
| Friday, May 4, 2018 | John Gunstad, Kent State University |