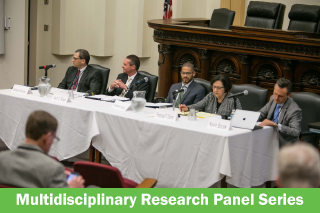 The Office of Research recognizes the importance of an environment that enables, encourages, and rewards multidisciplinary and collaborative risk taking to solve the broad challenges in our increasingly complex world. To enhance collaboration across the University to creatively and meaningfully address the needs of our community and our society, we are pleased to announce the CSU Multidisciplinary Research Panel Series.
This monthly panel series will provide CSU faculty with the opportunity to share their research interests with a broad audience, to learn about the research of their colleagues across the University, and to develop wide-ranging collaborations. Panels will cover academic subjects as well as multidisciplinary issues such as creativity, risk-taking, and innovation.
All seminars will be held in PHH-104 on Fridays, from 12:00 – 1:15 pm. Light refreshments will be provided.
Panel Dates for AY 2018-19
Date
Title / Panelists
9/14/2018
Title: IoT in the Community - Connected Devices and Data Driven Screen Level Governance

Moderator: Nick Zingale (Urban Studies)

Panelists: Thomas Hilde (Urban Studies), Hongxing Ye (EECS), Wenbing Zhao (EECS), Xiongyi Liu (Curriculum & Foundations)
10/19/2018
Title: Multidisciplinary Research in the Field of Substance Abuse: Innovative Strategies and Lessons Learned

Moderator: Cathleen Lewandowski (Social Work)

Panelists: Patricia Stoddard-Dare (Social Work), Miyuki Tedor (CAS), Wendy Regoeczi (CAS)
11/16/2018
Title: Research Impacts of the Faculty Scholarship Initiative (FSI) Award Program

Moderator: Myong Chang (CLASS Dean's Office)

Panelists: Kelly Wrenhaven (History), Adam Sonstegard (English), Kathy Curnow (Art & Design)
12/7/2018
Title: Smart Communities/Smart Policing Privacy Lab

Moderator: Brian Ray (Law)

Panelists: Jonathan Witmer-Rich (Law) and Marissa Pappas (Urban - MPA Program)
2/8/2019
Title: Building Multidisciplinary Relationships Through Social Impact Design

Moderator: Anne Berry (Art and Design)

Panelists: Shereen Naser (Psychology), Cigdem Slankard (Film and Media Arts)
2/22/2019
Title: Tumult in the Film Industry: Content Wins

Moderator: Frederic Lahey (Film)

Panelists: Evan Lieberman, Mike Rand, Cigdem Slankard (All Panelists: Film & Media Arts)
3/29/2019
Title: Violence and Society: Examining the impact of  Violence in our Lives

Moderator: Cheryl Bracken (CLASS Dean's Office)

Panelists: Wendy Regoeczi (CAS), Thomas Humphrey (HIS), Cyleste Collins (Social Work)
4/12/2019
Title: Human-Machine Systems: Rehabilitation, Exercise, and Prosthetics

Moderator: Jason Halloran (Mechanical Engineering)

Panelists:

Ton van den Bogert (Mechanical Engineering), Brian Davis (Mechanical Engineering), Andrew Slifkin (Psychology),

Jack Kraszewski (Technology Transfer Office)
5/3/2019
Title: Multidisciplinary Research Opportunities in University and K-12 School Partnerships

Moderator: Grace Huang (Teacher Education)

Panelists: Molly Buckley (Teacher Education), Nigamanth Sridhar (Graduate Studies/ Electrical Engineering), Alyssa Lane/Alexis Solet (Occupational Therapy)
---
Archive - Seminar Dates from AY 2017-18
Listed below are the eight multidisciplinary research seminars that were held during the 2017-2018 academic year. We thank everyone who attended one or more of the seminars!
| Date | Speaker |
| --- | --- |
| Friday, September 15, 2017 | Peter Niewiarowski, University of Akron |
| Friday, October 6, 2017 | Mark Souther, Cleveland State University |
| Friday, November 3, 2017 | Mark Sundahl, Cleveland State University |
| Friday, December 8, 2017 | Geoffrey Vince, Cleveland Clinic |
| Friday, February 2, 2018 | Kalle Lyytinen, Case Western Reserve University |
| Friday, March 9, 2018 | Andrei Gudkov, Roswell Park Cancer Institute |
| Friday, April 6, 2018 | J. G. M. "Hans" Thewissen, Northeast Ohio Medical University |
| Friday, May 4, 2018 | John Gunstad, Kent State University |