Risk Manager, Michelle Rieger, talks about education, career experience and how she is a successful professional after years of working in the field.
Kim Jimenez, Contributor
Michelle Rieger comes to Cleveland State University with over twenty years of experience in Parks & Recreation and private recreation. She directly oversees facility operations for the Campus Recreation Services department. Michelle grew up as a lifeguard, swim instructor, and fitness instructor. She put herself through college working in these areas. Enjoying it so much that she went back to it after college.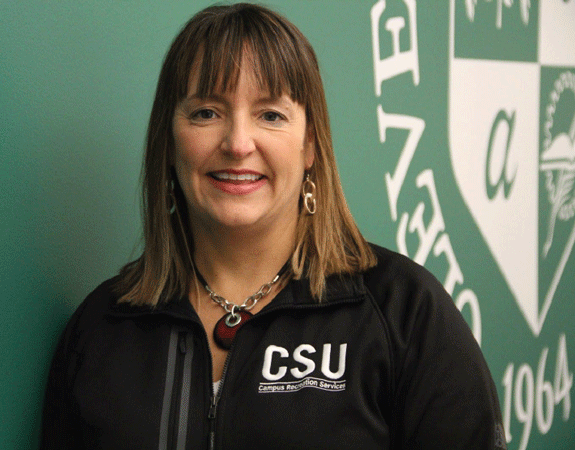 Spending four years working in the JCC [Jewish Community Center] setting in aquatics and fitness. The next 15 years were spent in city parks and the recreation setting, running the aquatics and fitness departments. "I transitioned into campus recreation 6 years ago and I'm still thriving in that area" said Michelle. Pictured above is Michelle where she currently works as the Associate Director of Programming and Operations at the CSU Recreation Center. Michelle attended the University of Akron in Ohio for her bachelor's degree in Psychology, and later went on to work towards her master's degree in Exercise Physiology Adult Education. She is currently working on her Ph.D. in Leadership in Health and Human Performance from Concordia University Chicago, which should be completed by Spring 2020.
When Michelle talked about some of her major accomplishments that she is proud of, this is what she said: "I'm proud to have built the most comprehensive aquatics program in Medina County when I worked parks and rec. I have had staff members continue in the field in the following areas: Navy Seals, college swim coaches, directors of waterparks and local swimming pools, fitness directors, and parks and rec directors. I am proud that I was able to make the switch to campus recreation fairly smoothly and advance to my current position as the Associate Director of Programming & Operations in 4 years. I am now the President-Elect of ORSA [Ohio Recreation Sports Association], our state recreation organization."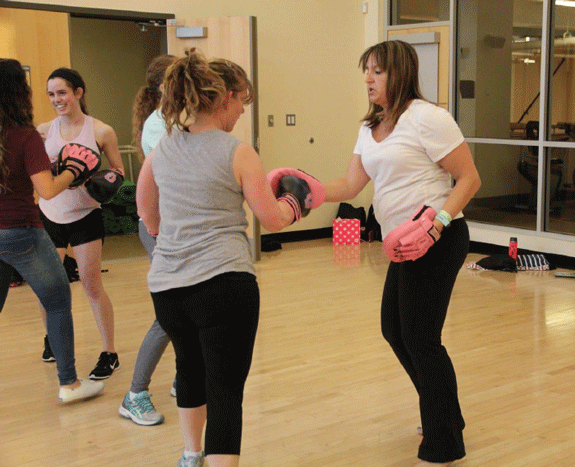 A woman like Michelle inspires everyone around her because she puts in the extra effort that goes a long way. She is passionate and considerate which makes for a great manager. There is no better reason than Michelle's explanation on what makes her so passionate about the job. "I love the students. Watching and helping our students grow and develop in their personal and professional lives is amazing. I also love to help our professional staff develop in their roles and especially their leadership of our students."
Some of Michelle's future goals are to finish her Ph.D. in Leadership - Health & Human Performance. She would like to someday be an adjunct professor in those areas. She would like to be on the faculty of the NIRSA School of Recreational Sports Management.  "I wouldn't mind being a director of a smaller school. I would love to continue to be a consultant for CENTERS and maybe grow that role." Breaking the barriers, Michelle did not let being a female affect her career. "I was a single mom for a large portion of my early career. I didn't really let that, or the fact that I was female, affect me. I approached things with knowledge and education. I came to meetings more prepared than anyone else in the room and had more information to backup my decisions. I knew being a female could be negative, but I was determined not to let it take over." As a way to build women's empowerment around CSU's college campus, Michelle helped launch a program called Pink Gloves Boxing (pictured above). This is a popular program that teaches women how to box, get a workout, and learn self-defense. Today on college campuses, this is very important. The program brings a pop of pink to the campus recreation center.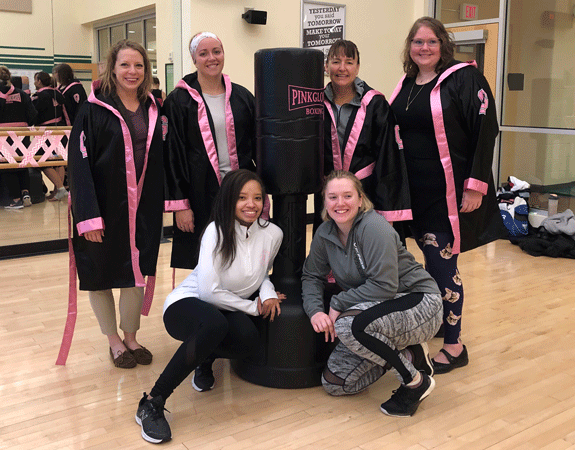 When I asked what advice she would give to help women succeed in the professional world, this is what she said: "Focus on knowing the basics of your job inside and out. Then be confident that you can do anything because you have the knowledge to back it up. Confidence in yourself is very visible and goes a long way. Confident, not cocky!" Michelle uses the CSU Rec Center everyday, and even instructs some classes! You can visit the CSU Rec in person or online at csurec.com.