Rock the Rec  ||  Homecoming 5K  ||  Viking Fit Fair  ||  WellFest  ||  Viking Quest
---

What is WellFest?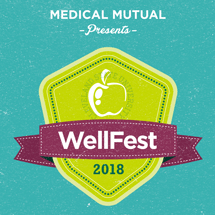 WellFest, presented this year by Medical Mutual, is an interactive, annual wellness event featuring FREE t-shirts*, FREE mini massages, food samples, fitness demos and activities, prizes, giveaways and more! Aside from the goodies, WellFest has grown to be an important tool in the continued growth and evolution of Cleveland State University's commitment to health and wellness throughout the university. Wellness is at the forefront of so many discussions today and CSU continues to be an active participant in these conversations. With so many students from our institution becoming leaders in the health, fitness, and wellness industries, it is essential to provide health-oriented, educational experiences necessary for success in the growing culture of healthy living.
We are proud to host this annual event - one that is dedicated to providing the information and building blocks to help you make the right decisions to better your health wellness on a daily basis. Health and wellness is a lifestyle, not a temporary practice. There's never a wrong time to start being a healthier you!
The Basics
When: Thursday, January 18, 2018; 10am-2pm
Where: Student Center Ballroom (3rd floor)
Who's Invited: Any and all CSU students, faculty and staff!
 
Features & Activities
FREE T-Shirts (while supplies last)
FREE Mini Massages from our licensed Massage Therapists!
Therapy Dogs!
Food Samples
Plank Challenge - top male and female win a $50 Visa gift card!
Sit-Up Contest - top male and female win a $50 Target gift card!
Push-Up Contest
Pink Gloves Boxing Demos
De-Stress/Ask a Personal Trainer Station - get general advice on stretches or exercises that can help decrease stress or reduce chronic pain from certfied personal trainers!
 
Prizes
Attend WellFest and you could win one of awesome prizes this year! All attendees will receive three (3) prize tickets at registration to enter to win any of the prizes at the event, including:
Cavs Tickets
49" LED TV
Century Cycle Bike
$100 Athleta Gift Card
Polaroid PIC
...and many more prizes​
PLUS, after WellFest is over, keep an eye to your email for our short follow-up survey to share your thoughts about this year's event and you could win an Echo Dot, a FitBit or Cavs Tickets!