Rock the Rec  ||  CSU Rec Golf Scramble  ||  WellFest
Student Employment Job Fair  ||  Virtual Wine & Yoga
---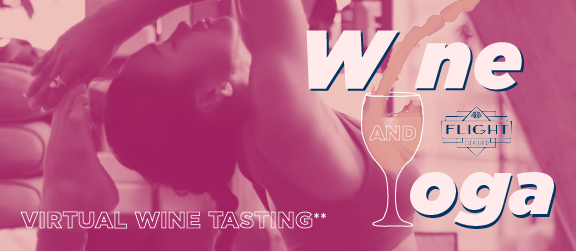 ​​​​​​


Wine & Yoga: Virtual Wine Tasting - COMING SOON
The CSU Rec is collaborating with our friends at Flight Cleveland to bring you MORE Virtual Wine and Yoga events soon!  We will start the evening off by moving and flowing through a 45-minute yoga class led by CSU Rec Yoga Instructor, Mary Schoen.  Following class we will be hanging out with Lindsey Smith, Owner of Flight Cleveland, as she leads us through our virtual wine tasting. This event is not to be missed! Save your spot today!

Date:  Check Back Soon!
Time: 6-8p.m.
​​​​​​​How Do I Sign Up?
Register HERE for just $5! (Be sure to sign in to your account or as a guest into the portal)
Then, call Flight Cleveland to reserve and purchase your wines at 216-400-6867.​​​​​​
(Wine orders must be placed by Saturday, 4/3)
Grape Study: Pinot Noir
o Carl Erhard Blanc de Noir Tocken, Rheinhessen, Germany @ $16
o Matua Valley Pinot Noir Rose, Central Otago, New Zealand @ $13
o Cantina Eisackthaler Pinot Nero Valle Isarco, Trentino-Alto Adige, Italy @ $19
- Select your wine(s) or order the full set for $48
Pick up your wines from Flight Cleveland ahead of the event.
• 5712 Detroit Avenue Cleveland, OH 44102
Join the fun on April 9th! A Zoom link will be emailed to you prior to event start once your registration and purchase are confirmed.
Questions?  Contact Melissa Albers, Assistant Director- Fitness & Aquatics.  Email her here.