Rock the Rec  ||  Homecoming 5K  ||  Viking Fit Fair  ||  WellFest  ||  Viking Quest
---

Complete the Quest to Victory!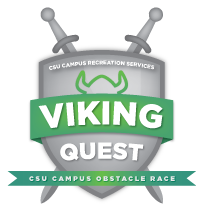 Viking Quest is an Amazing Race-style event this year taking place entirely on Cleveland State University's campus. Students, Rec Center members, and the general public (18 and older) can create a team to compete in a race that requires teamwork, skill, strength and critical thinking.
WHEN: CANCELLED FOR THIS SEMESTER.
WHERE: CSU Rec Center || 2420 Chester Avenue, Cleveland, OH 44115
WHO: Everyone is welcome to participate!
Price: $8/team*
*$1 of every entry will be donated to Rainbow Babies & Children's Hospital
Register today in the Pro Shop of the Rec Center!
Post-race refreshments will be available to all participants, and prizes will be awarded to teams with the fastest completion times.
---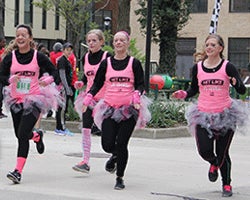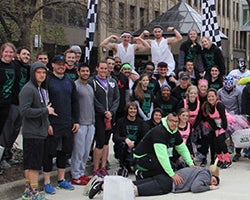 Course Map & Obstacles
This year's course was the best and most challenging one to date, with obstacles stationed throughout campus, participants got to see all differnt parts of the CSU campus while completing each of the fun obstacles! Check back soon for an updated course map and list of obstacles.
 
Frequently Asked Questions
Do you need any athletic ability to do this race?
No, the obstacles are designed so everyone can compete. Most obstacles take teamwork to complete so be sure you and your friends have good chemistry to finish the challenges!
Will there be mud, heights, or electricity obstacles?
Nope, all obstacles are mud, height, and electricity free.
Do I need a team of two to participate?
Teams will consist of exactly two people. But you can sign up as a "free agent" and be paired with someone else.
Who can sign up for the race?
Viking Quest is open to anyone! Grab some friends or family members and sign up!
Do I have to dress like a Viking to participate?
Nope. But the best dressed team does get an award. You can dress as outrageously as you'd like!
What if the event is cancelled due to weather?
Viking Quest will run, rain or shine! Should severe weather become a safety concern, a decision will be made as necessary.
For all other questions, please send an email to recreation@csuohio.edu and someone will get back to you as soon as possible.