What is Viking Escape?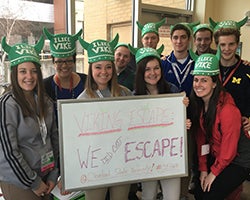 Viking Escape is a unique, exciting, and interactive team building challenge in which you are 'locked' in a room with other participants. The goal is to find clues, solve puzzles and escape before time runs out. This unique game requires critical thinking, decision-making, problem-solving, teamwork and time management skills in order to be successful. Designed of groups of 4-10 individuals, Viking Escape is an unconventional but awesome way to develop leadership and creative skills, camaraderie, and friendships.
 
How Does It Work?
Each session of Viking Escape is unique because the participants are unique! In general, participants offer a quick introduction to each other, we provide a brief introduction to the game, and then participants go into "lockdown!" Games can run either 30- or 60-minutes, followed by debrief discussions for a total session run time of 60 or 90 minutes.
 
Available Themes & Customization
We have multiple themed versions of Viking Escape available that employ a variety of differing types of clues and puzzles, including:
Leadership
Risk Management
Professional Development
Motivating Employees
Custom themes available! Contact us to discuss a theme or focus that fits your team goals.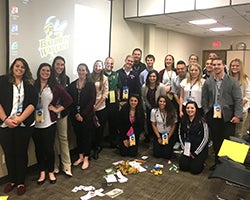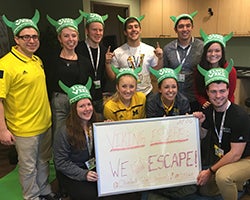 Pricing*
| group Type | 60-minute session | 90-minute session |
| --- | --- | --- |
| Student | $12/participant; $80 max. | $15/participant; $110 max. |
| Members | $15/participant; $110 max. | $18/participant; $140 max. |
| Non-Members | $18/participant; $140 max. | $20/participant; $160 max. |
*Custom programs/sessions that fall outside of the standard 60- or 90-minute sessions will vary in price. Contact us to create your custom Viking Escape session today!  Pricing is based on a 10 person max capacity in each Viking Escape room.  If your group is larger than 10 we can do multiple rooms.
 
How Do I Get Started?
To get started, just give us a call or send us an email and we'll work with you to create an exciting, fun and interactive team building experience!
Contact Michelle Rieger: 216-802-3210; m.m.rieger@csuohio.edu or Matt Schmiedl: 216-802-3210; m.schmiedl@csuohio.edu