---

Towel Service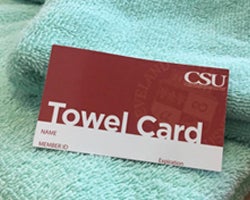 A towel is just one more thing you have to remember to pack and then store all day, which can be a nuisance. Why not take advantage of our Towel Service and save yourself the hassle!?  Plus, it's FREE to all members renting a locker from the Recreation Center! Don't have a locker? That's ok! Get a monthly or semesterly Towel Card and save a little cash over the daily rate.
All towels must be checked out and returned to the Customer Service Desk under your name using a numbering system. Equipment Issue is located at the Customer Service Desk at the front of the facility. There is no need to wait in line to return your towel.  Simply inform the Customer Service staff of your name and drop your towel into the hamper at the end of your workout.
Please note: failure to return your towel to Equipment Issue will result in a $10 charge.
For those that utilize the daily towel rental, the fee is $2 and has the same check-out/check-in procedures.
Towel Card
The Towel Card is a way to get unlimited towel service without having to purchase a locker. You may purchase the Towel Card at the Pro Shop.
$8.50 per month
$35 per semester

NOTE: CSU students are only eligible to purchase a semester towel card provided they are enrolled in the current semester.