---
​​​​​​​
It's Central to Your Success!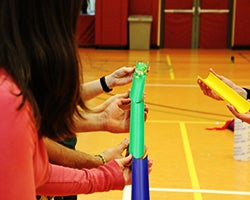 You've probably been involved in a team building exercise at some point - perhaps it was a weekend retreat, or an afternoon at the climbing gym learning to rely on one another, or a day on the golf course getting to know everyone. Team building exercises and programs can be a powerful way to unite a group, develop strengths, and address weaknesses – especially when strategically executed. That's where we can help!
Aside from the trips and instruction, Adventure Recreation also focuses on team building. The Team Building and Leadership Challenge program provides adventure challenge opportunities to help groups meet their full potential. These challenges are presented in the form on non-competitive group games, trust exercises and problem solving skills. Each challenge experience is different as they can be tailored to meet your group's specific goals. These activities will test an individual's physical and mental strength, as well as challenge the teamwork and overall communication skills of the group.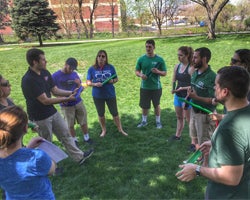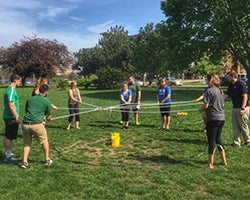 Team Building Rates
Contact us today at advr@csuohio.edu to find out more and to set up your team building event with us!
| Group Size | CSU Student Orgs. | CSU Groups & Non-Profit/Gov't. | Corporate & Other Orgs. |
| --- | --- | --- | --- |
| 6-15 | $15/hr | $30/hr | $45/hr |
| 16-30 | $30/hr | $60/hr | $90/hr |
| 31-45 | $45/hr | $90/hr | $135/hr |
| 46-60 | $70/hr | $135/hr | $175/hr |