Bodypump® is a class that can challenge everyone, from beginners to even the most seasoned exercise enthusiast. Some curious and ambitious CSU Rec student employees decided to give it a try and see what it's all about. Here is their story...
By: Cameron Scalera, Contributing Writer
Recently, some ambitious (and maybe a little apprehensive haha) student employees of the CSU Rec Center have started to sample different fitness classes offered within the facility for your benefit and enjoyment! This is the start to a bi-weekly set of blog posts and, eventually, class vlogs (stay tuned!). Let's get started!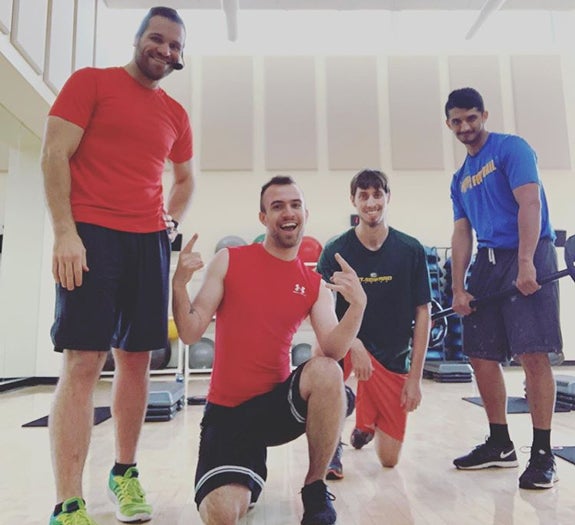 (That's us with Matt, our instructor, before the class! We look so happy...if only we'd known what was to come...)
This week, we tried out Bodypump®, a class focused on muscular endurance (low weight, high reps) set to music to help build strength and cardiovascular levels. We found out very quickly that this would be no walk-in-the-park class due to the nature of the exercises and the tempo of the tracks. We initially thought we were going to have an easy experience, but this class challenged us from start to finish! Our instructor, Matt, guided us through every rep, helping to push and motivate us throughout the class.
We took the abbreviated version of the class at noon, which lasted for 45 minutes with a total of 8 tracks, including a warm-up and a cool down. A barbell and weight plates were used throughout the session, with a range of dynamic movements and exercises involved. Bodypump® focuses on giving your whole body a workout, targeting specific areas with each track and leaving no muscle untouched. After the class, each of us felt the workout in different areas, proving to us that a positive, intense workout had definitely taken place!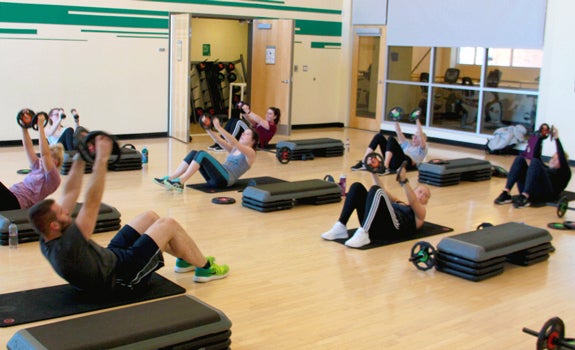 If you're looking for a new spin on your workout or you just need a change of pace, Bodypump's® upbeat tempo and intensity will be just right for you. If you want a longer workout, the CSU Rec also offers full 60-minute Bodypump® classes, as well, with all 10 tracks. We definitely recommend giving this class a try for a fun and challenging workout - and maybe we'll see you there!
Be sure you check back soon for more of our group fitness class and workout updates!