Rock the Rec  ||  CSU Rec Golf Scramble  ||  WellFest
Student Employment Job Fair
---
In addition to the myriad of other activities to participate in at our facility, we also host several special events for students, faculty, staff and community members. Cool, interactive events like Rock the Rec and health and wellness events like WellFest are just a couple of the events you can participate in at the Rec!
While they may feature varying themes and activities, all of our events focus on building excitement and engagement with the Rec Center, the university and the local community. And they provide us with an additional (and awesome!) way to give back. 

Get Involved with the CSU Rec via Sponsorships!
Partnering with the CSU Rec Center through one of our many sponsorship options gives you a ton of value. We have multiple sponsorship options for each of our events that fit any budget or goal; or consider becoming a CSU Rec Event Partner which bundles multiple event sponsor packages at a discount, saving you money!  Click here to view our Event Sponsorship packet for more details.
Below are some of our audience/demographic information "by the numbers":
CSUrec.com: 101,000+ site visits annually, 316,000+ page views annually
The Campus Rec Check eNewsletter (monthly eNewsletter):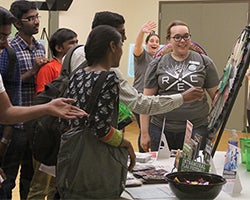 4,800+ monthly distribution
98.3% average delivery rate
34% average open rate
8.9% average click-thru rate        
Recreation Center Visits & Visibilty
1,400+ average daily visits
PLUS visibility on digital signage, viewable to general university traffic
Visibility on event marketing materials throughout university campus - 16,000+ students, faculty and staff
We welcome and encourage you to be a part of this awesome and engaging event! Contact Matthew Schmiedl, Assistant Director-Marketing & Technology for Campus Recreation Services, if you would like more information about our sponsorship packages and opportunities: 216-802-3251, or m.schmiedl@csuohio.edu
 
Interested in Becoming a Sponsor? Let Us Know!