A new Shake Shack just opened in downtown Cleveland in the midst of pride month and wasted no time in showing their support. So, we decided to check it out...
By Cameron Scalera, Contributing Writer

On June 20, 2019, Cleveland opened a new casual restaurant right in the heart of downtown. Shake Shack is home to quick burgers and milkshakes, with hot dogs and "concretes," their spin on an ice cream sundae, also on the menu. (Of course, we had to do some taste-testing so we could properly report back to you.) In addition to their regular menu, they also try to incorporate timely offerings into their retail environment - this month focusing on support for the LGBTQIA+ community.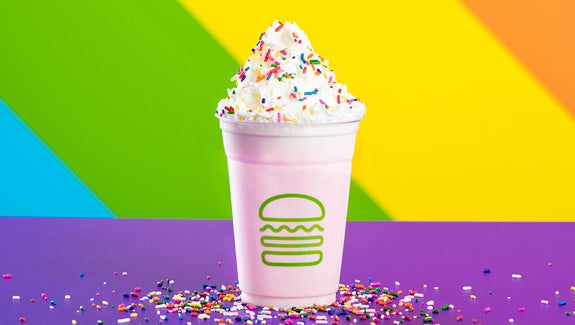 Front and center this month is the "Pride Shake," a special milkshake in honor of pride month celebrations across America. Along with this is a number of clothing items, in which part of the sales proceeds go to The Trevor Project, the world's largest suicide prevention and crisis intervention organization for LGBTQ young people. We stopped by the opening day to see what the hype was about (and get a cool hat)! All of the employees were very supportive of the company's actions and believe Shake Shack is one of the best companies to work for that supports LGBTQIA+ equality. It says a lot about a company to hear such encouraging feedback from the employees who directly serve customers. And...the food was delicious!! 
Here at the CSU Rec Center, we believe in inclusivity for everyone, as well. Which is why we are extremely happy to welcome Shake Shack to the downtown community. Pride month is an important time to build awareness and tolerance of equal rights for the LGBTQIA+ community (and everyone really). Keep the dialogue going and progress is sure to follow. And don't forget - while Shake Shack may be delicious, moderation is key. ;oP