Membership Types  ||  Member Services  ||  Passes  ||  CSU Rec Rewards  ||  FAQ
---

Join Our Elite Recreation Facility!
The CSU Rec Gives You the Biggest Bang for Your Buck!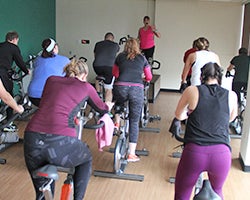 The CSU Rec offers a first-class recreation facility to students, faculty, staff, alumni, and community members. A membership gives you more than just access - we have a huge variety of equipment, classes and programming, and our prices are better than most gyms in the area. For more information, stop by our Pro Shop to speak with one of our Member Services Representatives.
 
Whether We Like It or Not, Winter Is Here.
Much like last year (and the year before that!), we've been a little spoiled with warmer-than-average temps for this time of year. But this is Cleveland, after all, and winter will be settling in any day now. As it does, remember there is always a chance that extreme inclement weather or hazardously cold temperatures may impact the CSU Rec Center which may result is delayed openings, early closings, or full-day closures. Always keep a watchful eye on our website and social media channels for the latest updates. Our website and social media channels (particularly Facebook and Twitter) are the best places to get the most up-to-date and timely notifications about closures and hours modifications. In addition, email notifications will also always be sent out as another way to spread the word when it is deemed necessary to close or modify hours.
We never want to close unexpectedly and we understand it can be a frustrating inconvenience when it happens - we never make the decision lightly. However, please know that if or when it does happen, the decision is made with everyone's best interests in mind to ensure your safety. Fingers crossed for an easy winter again this year!

Members must purchase or renew memberships in person at the Recreation Center. Memberships cannot be purchased or renewed over the phone.

A valid Viking/Rec Card is required to be admitted in to the Recreation Center.

A non-affiliate member will be issued a Recreation Card. A non-affiliate member includes: alumni and community.

An affiliate member will need to obtain a Viking Card from Berkman Hall Room 112. An affiliate member includes: students, faculty, staff, and business partners of CSU.

Members may check in without a Viking Card/Rec Card after enrollment. After the third time, access will be denied to the member.

A $15 replacement fee for lost, stolen, or misplaced Rec Cards will be assessed.

Non-Affiliate first time members will be charged the $50 initiation fee to cover administrative fees and a Recreation Card. Affiliates, corporate members, and student spouses/partners/dependents will not be charged the initiation fee unless a community membership is purchased. Alumni initiation fee will be waived up to two semesters upon completion of degree.

Faculty/Staff enrolled as a student at CSU will be charged the faculty/staff membership rate unless the Registrar's Office can confirm faculty/staff are paying the General Assessment fee.

CSU students are only eligible for one off-semester membership on either side of an enrollment period. Students from other universities are only eligible for the off-semester rates during winter and summer breaks.

A member may register their dependent under the age of 18 at the corresponding member rate.

All memberships are subject to verification for proper classification. False/inaccurate information may result in loss of membership and may result in loss of future access. The information provided on the application is true, and all necessary documentation has been provided to receive the appropriate membership rate as determined by the membership class.

All memberships are non-refundable and non-transferable. The Recreation Center will be closed one full week every May for annual maintenance and repair. Memberships will not be extended or refunded because of this closure.

A minimum one month membership is required for payroll deduction or electronic funds transfer options. All memberships, lockers, towel cards, etc. using payroll deduction or electronic funds transfer are continuous and will be automatically renewed each month. Memberships may be cancelled at any time after one month and cancellations will be handled in the following manner:

Cancellations received between the 1st and the 20th of the month – will terminate at the end of the current month and automatic withdrawals will stop with the current month's payment.

Cancellations received between the 21st and the end of the month – will terminate at the end of the following month and automatic withdrawals will stop after the following month's payment.

The Payroll Deduction option is available for full-time faculty/staff only and deductions will come out of the first paycheck each month.

The CSU Payroll Department will not terminate your deduction without first receiving permission from Campus Recreation Services.

The Electronic Funds Transfer option is available for any member that provides a valid credit card number or bank account information.

The Electronic Funds Transfer will take place the 2nd day of each month.

It is the member's responsibility to notify Campus Recreation Services immediately of any changes in bank and/or credit card information.

Campus Recreation Services will charge a $5 penalty fee if your credit/debit card is declined.

If an Electronic Funds Transfer is declined Campus Recreation Services will immediately turn the member's status to inactive and contact the member via electronic letter. If the member fails to pay the balance on their account following three consecutive declined months the members account information will be turned over to Cleveland State University. Cleveland State University will turn the member over to a third party collection agency.

Members must update EFT information in person at the Recreation Center. EFT information cannot be updated over the phone.

Any member with an outstanding balance on their account must pay off the balance in full before renewing their membership or purchasing a guest pass.

Project 60 students do not pay the general fee requirement and therefore are not granted access to the Recreation Center via the CSI download.

Project 60 students are eligible for the student off-semester membership type.

Project 60 students must provide a valid Viking Card/Rec Card to enter the facility. Project 60 students must sign the release of liability waiver form the first time they enter the facility.