Membership Types  ||  Member Services  ||  Passes  ||  CSU Rec Rewards  ||  FAQ
---

Join Our Elite Recreation Facility!
The CSU Rec Gives You the Biggest Bang for Your Buck!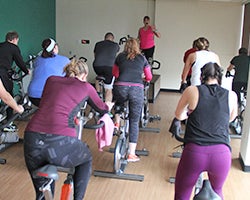 The CSU Rec offers a first-class recreation facility to students, faculty, staff, alumni, and community members. A membership gives you more than just access - we have a huge variety of equipment, classes and programming, and our prices are better than most gyms in the area. For more information, stop by our Pro Shop to speak with one of our Member Services Representatives.
Member News & Updates
As we approach our Annual Maintenance Shutdown week, May 13-21, 2017, please be sure to remove all locker contents before Friday, May 12th, in order for us to properly clean, sanitize, and paint both locker rooms. Patrons with active lockers will keep their current combinations and will be able to replace their belongings once we reopen on Monday, May 22nd. Thank you for your cooperation!