Membership Types  ||  Member Services  ||  Passes  ||  CSU Rec Rewards  ||  FAQ
---

Join Our Elite Recreation Facility!
The CSU Rec Gives You the Biggest Bang for Your Buck!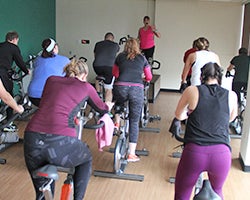 The CSU Rec offers a first-class recreation facility to students, faculty, staff, alumni, and community members. A membership gives you more than just access - we have a huge variety of equipment, classes and programming, and our prices are better than most gyms in the area. For more information, stop by our Pro Shop to speak with one of our Member Services Representatives.
 
Whether We Like It or Not, Winter Is Here.
Much like last year (and the year before that!), we've been a little spoiled with warmer-than-average temps for this time of year. But this is Cleveland, after all, and winter will be settling in any day now. As it does, remember there is always a chance that extreme inclement weather or hazardously cold temperatures may impact the CSU Rec Center which may result is delayed openings, early closings, or full-day closures. Always keep a watchful eye on our website and social media channels for the latest updates. Our website and social media channels (particularly Facebook and Twitter) are the best places to get the most up-to-date and timely notifications about closures and hours modifications. In addition, email notifications will also always be sent out as another way to spread the word when it is deemed necessary to close or modify hours.
We never want to close unexpectedly and we understand it can be a frustrating inconvenience when it happens - we never make the decision lightly. However, please know that if or when it does happen, the decision is made with everyone's best interests in mind to ensure your safety. Fingers crossed for an easy winter again this year!

​​​​​​​