Everything You Could Want in Fitness, Sports, and Leisure!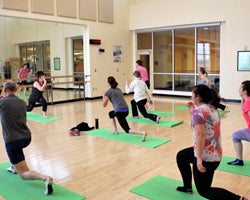 In addition to our fantastic facility and amazing variety of equipment, we also have a huge suite of programs and services to get involved with - there's literally something for everyone. Stay active and healthy with our FREE group fitness classes or take advantage of more focused expertise and join a premium fitness program, like Pink Gloves Boxing or Viking Strong. You can relax and unwind with our massage therapy services or get competitive by joining an intramural sport league or tournament! 
Why not learn some new skills? We offer a variety of group and private swim lessons, as well as aquatic and safety certifications like CPR, First Aid, and Lifeguarding! Or if you're interested in something a little more off-the-beaten-path, sign up to go on one of our Adventure Rec trips! Some of our past trips have included backpacking, whitewater rafting, rock climbing, hiking, and kayaking.
And when the kids are off school, bring them down to one of our day camps or join our 10-week summer camp! We provide a safe, fun and interactive program filled with games and activities, creative crafts, sports and swimming, as well as a great place to make new friends and have a wonderful time!
This is just scratching the surface - be sure to explore all of our available programs and services and see just how much we can do for you. Get involved and have an awesome time!