Inclusive Rec  ||  Pro Shop  ||  Rentals  ||  Request a Repair
---

All the Swag and Convenience Items You Need at Affordable Prices!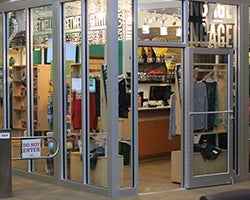 Our Pro Shop, located right next to the Welcome Desk, is a multi-purpose shop that offers CSU Rec swag and convenience items to our customers while also serving as an integral part of our membership operations. The Pro Shop is the main point of purchase and registration for memberships, passes, programs, sports, and services.
Whether you forgot your headphones at home, need a protein bar to follow-up a workout, or you want to sport some cool, custom Rec apparel, we've got you covered! Our Pro Shop carries all the apparel, health and beauty products and convenience items you need while hanging out at the CSU Rec Center. And with frequent sales and promotions happening regularly throughout the year, there are plenty of opportunities to save a little cash as well!
 
NEW! GRAB-N-GO SNACKS Available!
Now you can find a variety of healthy grab-n-go snack foods that are great to help fuel your workout! New items include fresh fruit, granola bars, trail mix and protein products. Check 'em out today!
Swing by the Pro Shop next time you visit the Rec Center and see all we have available to our members and patrons!