it's Time to Get swimming!
---

Private Swim Instruction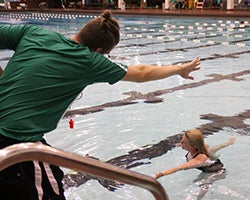 Our private swim sessions are for people of all ages. Instructors are ready to meet with you individually and help you reach your swimming goals. Lessons are scheduled based on pool, instructor, and participant availability. Prior to purchasing a private lesson package, please connect with an Aquatic Staff member to make sure we can properly meet your needs.
 
***We currently have a wait list for private lessons.****
Please contact Griffin Manning to be added to the list. g.l.manning22@vikes.csuohio.edu.
---
Meet our Instructors
Irena, Aquatic Supervisor & Lead Private Lesson Swimming Instructor 
Former member of the CSU Swim and Dive Team with a 4-year of experience as a swim instructor. Specializes in beginner and advanced adult swim lessons. If your goals are swimming for fitness, triathlon, or overcoming your fears, you are in the right place. Individually designed swim sessions will help you achieve your goal at the exact pace you need, with the exercises you need. If you are a beginner, we'll start with floating and kicking on the front and back. Then move on to treading water and adding arms to your stroke. If you are already comfortable with your stroke, we'll use video analysis to help make your swimming effortless. Hope to see you on the pool deck!
Hannah, Lifeguard & Swimming Instructor
Hannah is a recent graduate of the College of Wooster with a degree in English and Studio Art with a minor in history. She swam on the swim team for 4 years (D3) and was a captain for 2 years. During the day she works at City Year at Mound STEM, a CMSD school, and specifically works with a 3rd-grade classroom. She has been teaching lessons since 2016, and ran a club swim program for both lessons and competition the past two summers.
Naomi, Lifeguard & Swimming Instructor
Naomi is a nursing major at Cleveland State and has been a lifeguard & swim instructor for a year. She loves working with little ones to help them become more comfortable with being water and develop the necessary skills to be ready for a lifetime of swimming!
Eman, Lifeguard & Swimming Instructor
Eman is a Business Economics Major at Cleveland State. He has been a lifeguard for 4 years, and a swim instructor for 2 years. Eman loves teaching kids and adults how to swim. He finds joy in watching his students progressively get better at swimming!
Jordan, Aquatic Supervisor & Swimming Instructor
Zak, Aquatic Supervisor & Swimming Instructor
Luke, Lifeguard & Diving Instructor
Quinn, Lifeguard & Swimming Instructor
Private Swim Lesson Fees
 

Session Count

Students

Members

Non-Members

30 Minute
1 Session
$20
$30
$35
5 Sessions
$85
$135
$160
10 Sessions
$150
$250
$300
Semi-Private Swim Lesson Fees
2-3 participants.  Pricing below is per person.  Each person wishing to participate in semi-private lessons needs to complete their own session package purchase in the Pro Shop to have on their account.
 

Session Count

Students

Members

Non-Members

30 Minute
1 session
$15
$25
$30
5 sessions
$70
$110
$135
10 sessions
$120
$200
$250
Before making your purchase, click here to review our refund policy.
Purchase your Packages online!