<< Premium Fitness Programs Home
---
A female-focused, high-energy boxing class! Pink Gloves Boxing will take your workout to the next level not only physically but mentally too! This class is different from conventional group fitness classes in that it is taught in a small group training setting so you'll get extra one-on-one time with your trainers to work on your boxing form and skills. During class you'll head through various stations such as punching bags, shadow boxing, speed/agility drills, mitt holding, and more! Pink Gloves Boxing is a fun, friendly, and encouraging environment that personally challenges you at YOUR level. You'll develop powerful boxing skills and define a healthier, more confident YOU.




Before making your purchase, click here to review our refund policy.
Summer 2019 Sessions
Summer 2019 Registration Coming Soon!
All tiers run June 3- August 16th (10 weeks)- No classes the week of  July 1st!
 
TIER 1*
Times
Mondays & Wednesdays: 5p.m.

Try a FREE Pink Gloves Boxing Tier 1 class during our Premium Fitness Demo Weeks (May 20-31st) and receive a coupon for 10% off your registration!
Fees
CSU Students:  $95  |  Members:  $115  |  Non-members:  $135
*First-time Tier 1 participants receive a starter kit that includes: PGB drawstring bag, boxing gloves, hand wraps, wristband, and a keychain!
 
TIERS 2-7**
Tier 2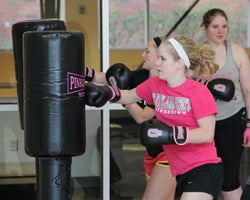 Mondays & Wednesdays: 8a.m.
Tier 3 
Mondays & Wednesdays:  7a.m.
Tier 4 
N/A
Tier 5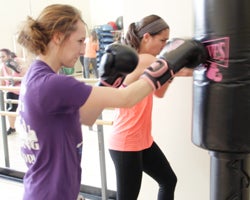 N/A
Tier 6 
N/A
Tier 7
Tuesdays and Thursdays:  7:30a.m.
Fees 
CSU Students:  $85  |  Members:  $105  |  Non-members:  $125       
**Tiers Two-Seven include the Tier up award equipment that you  receive upon completion of the Tier Up event.