Certifications || Fit Together || Group Fitness || Premium Fitness Programs ||  Personal Training
---

Personalized Instruction to Reach Any of Your Goals.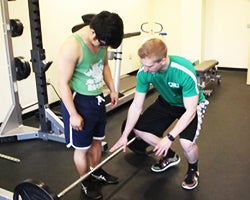 Whether you're seeking help with weight loss, specialized training, or build overall strength and stability, let our certified personal trainers work with you to create a customized workout plan to meet your goals! With a variety of training packages, you can customize your own personal training experience to fit your budget. 


Get to Know Our Trainers!
We have an excellent group of personal trainers with a variety of skills and specialties for you to work with! Click on the name of one of our excellent trainers below to learn more about them.  
How Do I Purchase Personal Training Services?
To get started, please fill out the personal training services request form online or the paper form at the Customer Service Desk/Pro Shop.
A fitness and wellness staff member will contact you within two (2) business days to schedule your initial session.
Payment can be made in the Pro Shop (cash or credit card).
Please note: if a physician's clearance is necessary based on your responses to the health history questionnaire, no personal training sessions will take place until the physician's clearance form has been received.
 
First-Time Client? Welcome!
We're glad to have you as a new personal training client! You're in great hands with our trainers who will develop an excellent personalized training program to meet your needs and goals. To do so, the first session with your trainer will be a fitness assessment that consists of various postural evaluations, movement screenings, fitness tests, and body composition measurements, as well as a discussion about the specific goals you'd like to achieve through your sessions. Your trainer will then use this information, along with the information you provided in your personal training client packet, to build your training program.

Personal Training and Small Group Training Rates
Service
60-min Individual PT
30-min Individual PT
1 PT session
Student:  $28
Member: $38
Non-Member: $48
Student: $20
Member: $24
Non-Member:  $34
3 PT session package
Student:  $78
Member: $108
Non-Member: $138
Student:  $54
Member: $60
Non-Member: $96
5 PT session package
Student: $120
Member: $170
Non-Member: $205
Student:  $80
Member: $100
Non-Member: $150
10 PT session package
Student: $220
Member: $320
Non-Member: $390
Student:  $140
Member: $180
Non-Member: $280
20 PT session package
Student: $400
Member: $600
Non-Member: $740
Student: $240
Member: $320
Non-Member: $520
| | |
| --- | --- |
| 1 SGT session | Student:  $24 || Member:  $30 || Non-Member:  $40 |
| 5 SGT session package | Student:  $100 || Member: $130  ||  Non-Member: $180 |
| 10 SGT session package | Student:  $180 || Member: $240  ||  Non-Member: $340 |
| 20 SGT session package | Student:  $320 || Member: $440  ||  Non-Member: $640 |
Prices listed are per person; minimum of 2, maximum of 5 participants need for small group training.