All Parking Permits Go Virtual August 1, 2021
Rec Parking Permits are now completely virtual! That means no plastic hangtags will be issued and Rec Parking Permit holders will no longer need to display their pass on their dashboard. Your license plate will serve as your parking permit.
General information to know:
Vehicle license plate must face drive lane while parked in garages or surface lots.
All vehicles associated with a permit must be registered by license plate.
Vehicle license plate is the 'parking permit'.
Only one (1) registered vehicle may be parked on campus at a time.
Plastic hangtags will not be issued.
Permit holder's Rec Center ID is used to enter and exit gated facilities.
Permit sales are online only.
If you are using a pulled entry ticket or prepaid parking ticket, you will need to display the ticket on your dashboard while parked.
Get all the details on CSU Parking & Transportation Services' website...
 
General Information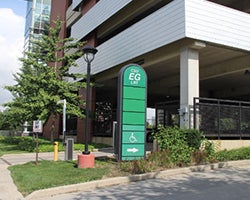 All sales of parking permits and passes are made through CSU Parking & Transportation Services. All patrons purchasing parking permits through CSU Parking & Transportation Services will have access to Rec Garage (Lot 65), Lot 54, and East Garage.  Permits are virtual so they do not need to be displayed while parked on campus, however, all car information must be accurate and tied to an active account in order to avoid parking citations. 
To get to the Recreation Center from the Rec Garage: Take the elevator in the garage up to the 3rd floor. Follow the walkway overlooking the Recreation Center (InnerLink) and before entering the next building, either take the stairs or the elevator down to the 1st floor.
Online Parking Portal
CSU Parking and Transportation Services has implemented an online process for purchasing parking permits! To visit the Online Parking Portal, click here.
Please Note:
The system takes approximately 30 minutes from the time a new parking permit is issued until the East Garage scanner will recognize the QR code.

All Rec Center parking permits have a daily 3-hour time limit, any permit used for longer than that period may be charged the following rates upon exiting the East Garage:
| time | Rate | Time | Rate |
| --- | --- | --- | --- |
| 0-3 hours | no charge | 6-7 hours | $7.00 |
| 3-4 hours | $4.00 | 7-8 hours | $8.00 |
| 4-5 hours | $5.00 | 8-9 hours | $9.00 |
| 5-6 hours | $6.00 | 9-24 hours* | $10.00 |
*Every additional 24 hours - $10.00
If you have any questions, please contact Jason Mandula, Assistant Director - Facility Operations, or call 216.802.3209.
 
Parking Rate, Eligibility Information, and Locations
Rec Center parking passes are $18/month.
Active, dues-paying members of the Rec Center may purchase a parking pass. Current CSU students, faculty/staff, and business partners must purchase a parking pass from CSU Parking & Transportation Services. Parking permits will provide you access to the Rec Garage (RG), East Garage (EG), and Lot 54. Additionally, metered parking is available in the Rec Garage, Chester Avenue, East 24th Street, and Payne Ave.
For more details on parking policies and procedures, click here.
For a map of eligible parking surfaces and garages, click here.