Current Promotions
Group Fit Galore!
Attention all Group Fit Galore participants! The end of our program is just around the corner - get in those last few workouts and turn in your punch cards to the black lock box at the Customer Service desk by 10/31. The THREE top winners will have their RecRewards applied to their accounts.
Group Fit Galore is back for round 2! Take part in this FREE incentive program running October 1st - 31st. It's simple to participate:
1. Get a punch card from any group fitness instructore.
2. Participate in group fitness classes earn punches on your card. 
3. Turn in your card at the end of October to receive your bonus RecRewards points!
Everyone earns 100 points for getting at least 10 punches, and the top 3 individuals who attend the most classes (have the most punches on their punch card) at the end of the month-long challenge WIN BIG!
10 punches (attend 10 fitness classes): 100 pts
1st Place: 5,000 pts ($100 value)
2nd Place: 3,750 pts ($75 value)
3rd Place: 1,250 pts ($25 value)
 
The rules are simple - you can earn up to 2 punches/day and a max of 10 punches/week.
---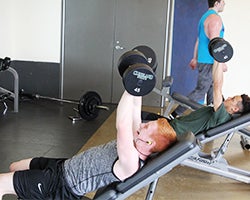 Working out with a friend is always more fun than working out alone. Share the gift of good health with a friend and earn rewards for it! Active members may refer new members to the CSU Rec Center to earn points via our CSU RecRewards program. Referrals can be made via CSU RecRewards OR in person by completing just a few simple steps outlined below. Go get your referral on!
 
REFER VIA CSU RECREWARDS*
Submit a referral form via www.csurecrewards.com PRIOR to the referred member signing up for a new membership.
Once qualified, referred members will receive a confirmation email.

If referred member redeems his/her FREE facility visit within the next 2 weeks, you earn 250 points!
If referred member purchases a membership of any kind, you earn 1,250 points!
If referred member is a previous CSU Rec Center member (inactive for at least 6 months), you earn 750 points!
*Points will not be awarded for purchasing additional guest passes or 5 Punch Passes. Points will not be awarded for referring a current CSU Campus Recreation Services member. Points are non-transferable and are subject to verification by Campus Recreation Services.
**Referred students must have never checked into the Recreation Center in prior semesters.