Current Promotions
New Member Special!
Ends March 1, 2020
For a limited time only, new CSU Rec members SAVE 50% on up to 4 months of membership*, and no Initiation Fee – that's up to a $142 savings!! A CSU Rec membership gives you access to our entire facility and indoor pool, our full schedule of free group fitness classes, indoor track and turf, and more than 75 pieces of weight and cardio equipment. Sign up in the Pro Shop today!
*New members only. All months of membership must be paid in full at time of purchase to receive discount.  
 
Form Good Habits!
January 21 – February 29
Did you know it takes over 2 months to form a habit? We want to keep your New Year's resolutions going by offering RecRewards bonus points for actions you already perform or to encourage you to stay on the right path to health and wellness in 2020! Earn bonus RecRewards points with key actions during the timeframes below and set yourself up for long-term success!
1/21-1/31: 2x check-in points
2/1-2/7: 25 points for attending a group fitness class
2/8-2/14: 2x points for Pro Shop purchases (includes programs, services, and goods)
2/15-2/21: 2x check-in points
2/22-2/29: 25 points for attending a group fitness class
 
Spring Forward Promotion
March 16 – 31, 2020
We're happy to say the Spring is just around the corner! And to celebrate we've got some special promotions planned to help keep you on-track as the weather warms up:
Throwback membership pricing! More details coming soon.
(min. 2 months; max. 6 months)
Waived initiation fee for new members (a $50 value!)
3x RecRewards points on gift card purchases of $25 or more.
20% off private swim lessons (min. 3-session pkg.)
20% off Adventure Rec camp equipment bundle
$20 off intramural team league signups (3/16 – 3/20 only)
 
Membership Discounts
You don't have to wait for a timely sale or a special promotion to save money on your membership. Enjoy these permanent membership discounts anytime you want!
Buy 6 months of membership, SAVE 10%!*
Buy 12 months of membership, SAVE 15%!*
All 6 or 12 months of membership must be purchased in one transaction to receive discount.
---
Refer A Friend!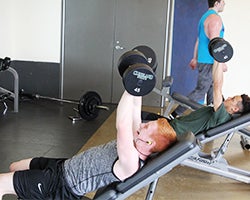 Working out with a friend is always more fun than working out alone. Share the gift of good health with a friend and earn rewards for it! Active members may refer new guests to the CSU Rec Center for a 3-day trial and will earn points via our CSU RecRewards program for each referred guest who becomes an active member. Go get your referral on!
 
REFER VIA CSU RECREWARDS*
Submit a referral form via https://www.perkville.com/biz/8885/referral PRIOR to the referred guest signing up for a new membership.
Once qualified, referred members will receive a confirmation email.

Referred guests have 14 days to redeem 3-day trial
3-day trial must be used within 5 days of redemption
New guests and 18+ only
Must provide state-issued photo ID
All redemtpions must occur in Pro Shop

1250 points for referring guests will be awarded once guest becomes an active member.
*Points will not be awarded for referring a current CSU Campus Recreation Services member. Points are non-transferable and are subject to verification by Campus Recreation Services.