Current CSU Rec Promotions
Pick 2 in 2022!
Start the new year with a renewed focus on building healthy habits – and we're here to help! Receive 22% off the following programs and services when you buy at least 2:†
Pink Gloves Boxing registration (1 registration per customer)
Locker rental, including towel and laundry service (up to 5 months)
3-pack of 60-min. Swedish massages*
3-pack of 60-min personal training sessions* (free fitness assessment included for new PT clients)
F45 semester unlimited pass (1 per customer)
5-pack of 30-min private swim lessons* (1 package per customer)
†Members only. Programs/services must be purchased in the same transaction to receive promotional discount.
*Massages, personal training sessions, and private swim lessons expire on May 31, 2022.
 
PLUS, save on members for 2022! The earlier you buy, the more you save!**
Save 40% now through 1/9/22
Save 30% 1/10/22 – 1/16/22
Save 20% 1/17/22 – 1/23/22
Save 10% 1/23/22 – 1/31/22
**Must purchase in 3-, 4-, or 5-month increments; promotion capped at 5 months of membership. Discount amounts are only available for the dates listed. New members: waived initiation fee ($50 value).
---

Membership Discounts
You don't have to wait for a timely sale or a special promotion to save money on your membership. Enjoy these permanent membership discounts anytime you want!
Buy 6 months of membership, SAVE 10%!*
Buy 12 months of membership, SAVE 15%!*
*All 6 or 12 months of membership must be purchased in one transaction to receive discount.
---
Refer A Friend!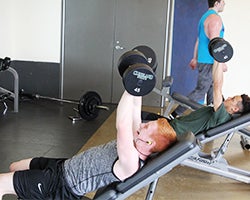 Working out with a friend is always more fun than working out alone. Share the gift of good health with a friend and earn rewards for it! Active members may refer new guests to the CSU Rec Center for a 3-day trial and will earn points via our CSU RecRewards program for each referred guest who becomes an active member. Go get your referral on!
 
REFER VIA CSU REC REWARDS*
Submit a referral form via https://www.perkville.com/biz/8885/referral PRIOR to the referred guest signing up for a new membership.
Once qualified, referred members will receive a confirmation email.

Referred guests have 14 days to redeem 3-day trial
3-day trial must be used within 5 days of redemption
New guests and 18+ only
Must provide state-issued photo ID
All redemptions must occur in Pro Shop

1250 points for referring guests will be awarded once guest becomes an active member.
*Points will not be awarded for referring a current CSU Campus Recreation Services member. Points are non-transferable and are subject to verification by Campus Recreation Services.